PUSH TRUCK INFO PAGES





JIMMYJEEPS PAGES




PHOTO GALLERYS AND SPECIAL SHOWS


















SPECIAL BUILT PUSH TRUCKS







PUSH TRUCKS FROM AROUND THE WORLD





























SPECIALTY PAGES




E-MAIL "JIMMYJEEP" AT jimmyjeep45@yahoo.com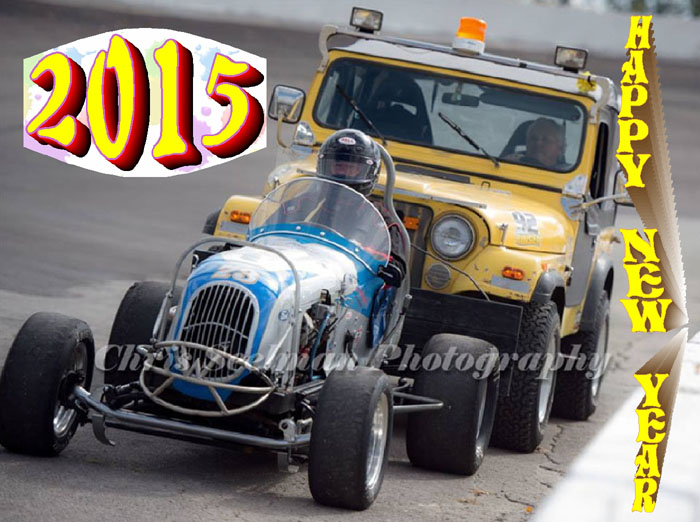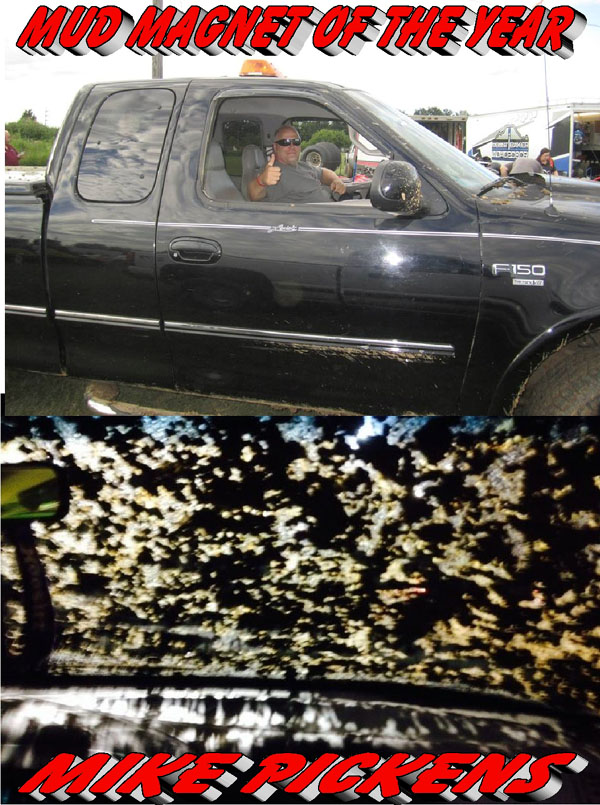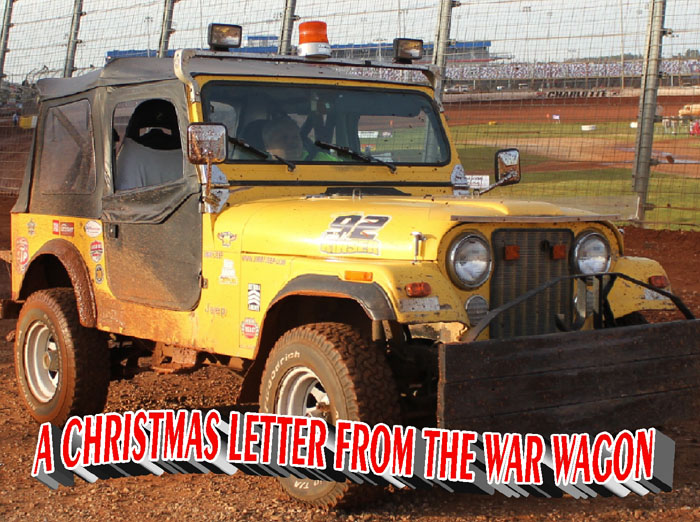 Dear Santa..I know you don't get letters from a JEEP push truck but I felt I needed to write you..This year has been a rough year for Jim Knapp & Glenda Lacer but they have kept going..Pushing was linmited after the Florida Sprint Weeks but they were able to finish the season with their friends at a few tracks..My CHEVY heartbeat is getting weak so I have to have a motor change to be able to start 2015 which will be my 30th season of pushing..Do you think you could find us some sponsorship this year..Lately the decals that I have had are for a young fan, two drivers, and a police officer that have taken a way to early checkered flag..Merry Christmas from the War Wagon..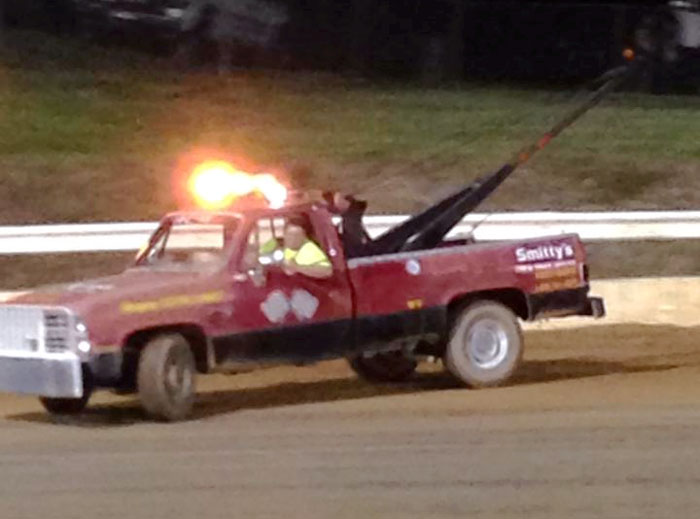 WE HAVE A NEW PUSHER AND ONE OF THE HAPPY HOOKERS..THIS IS ZACHARY HANSON FROM BEDFORD FAIRGROUND SPEEDWAY IN BEDFORD, PENNSYVANIA..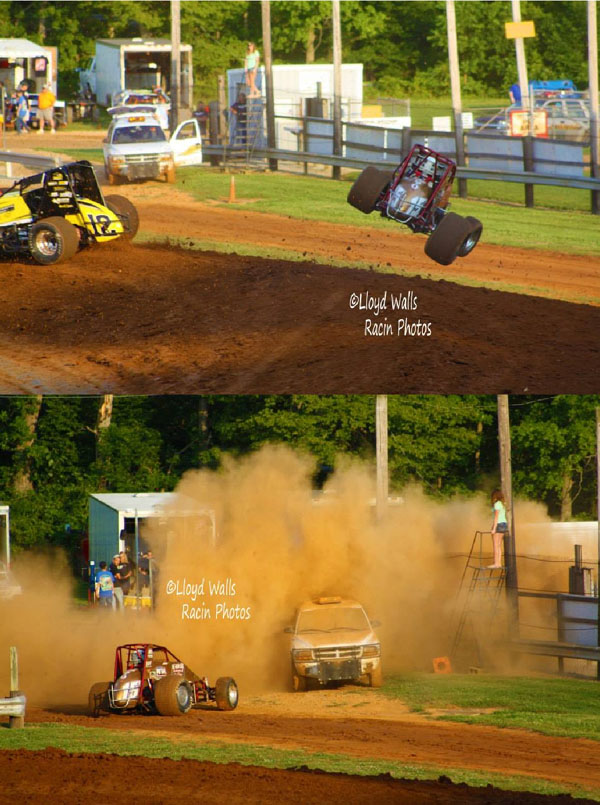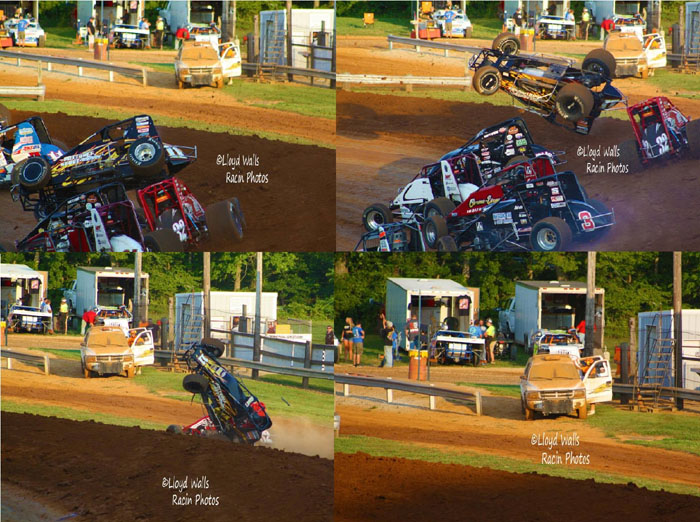 JOE CHAMBERS HAD ROUGH TIME THIS SUMMER KEEPING HIS TRUCK CLEAN AT BLOOMINGTON SPEEDWAY..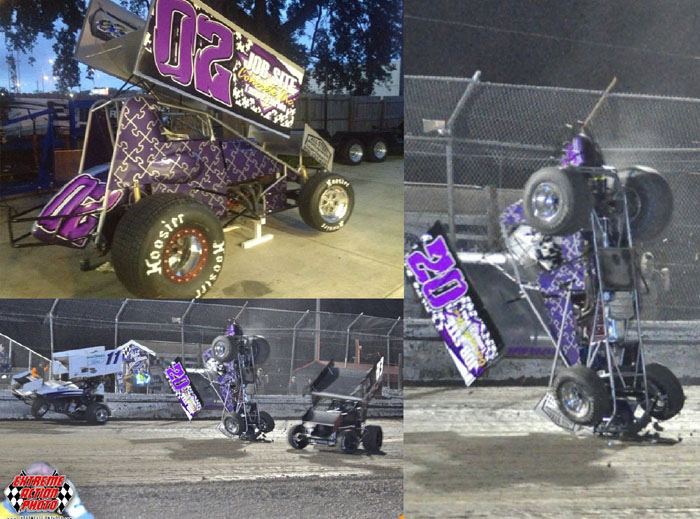 GENE LASKER'S PRETTY "RACING FOR AUTISUM" HAD A HARD TIME AT BUBBA RACEWAY PARK..

THESE ARE SOME OF MY PUSH TRUCK FAMILY THAT I WORKED WITH THIS YEAR IN INDIANA, FLORIDA, AND THE WORLD FINALS IN CHARLOTTE, NORTH CAROLINA..(Glenda Lacer photos)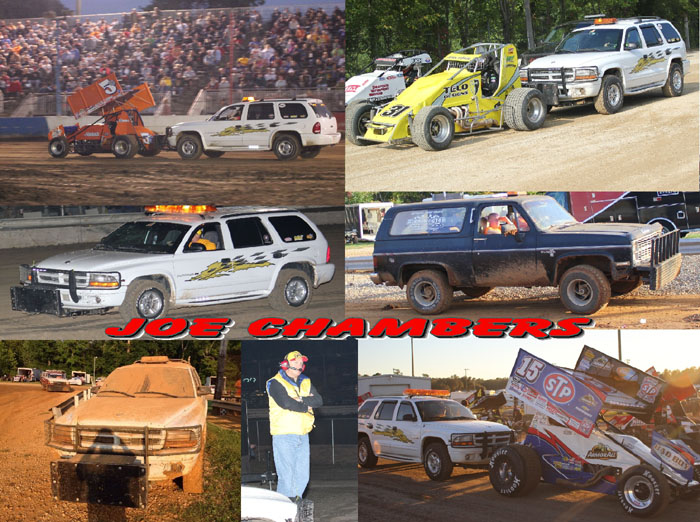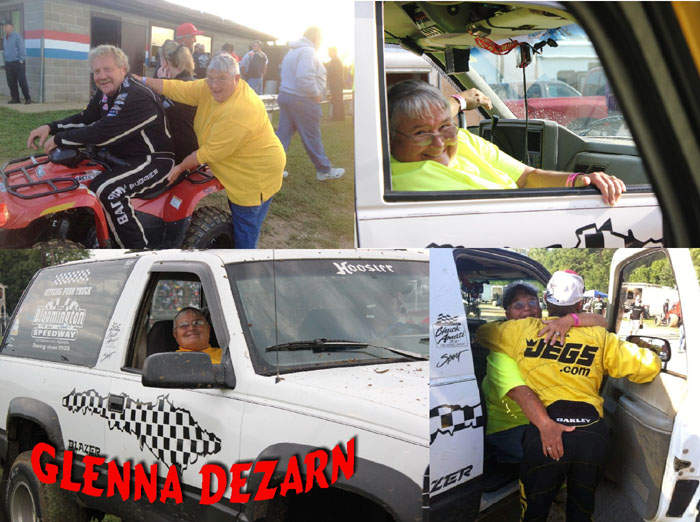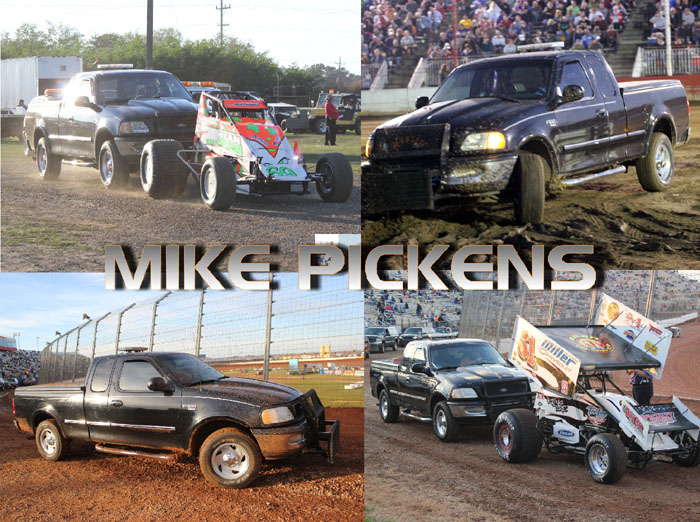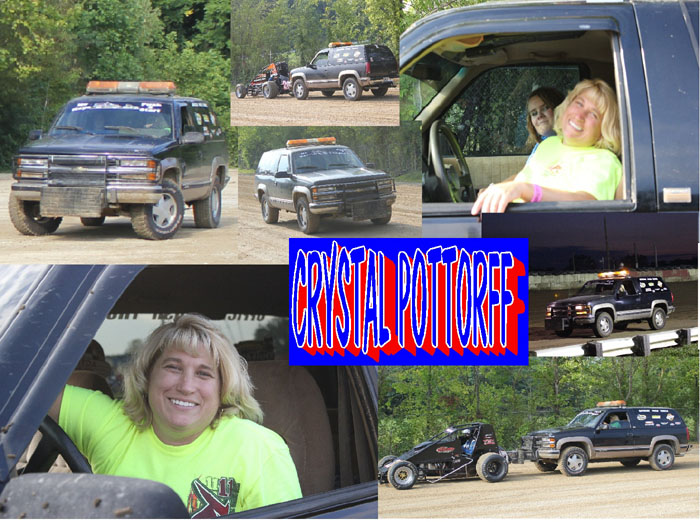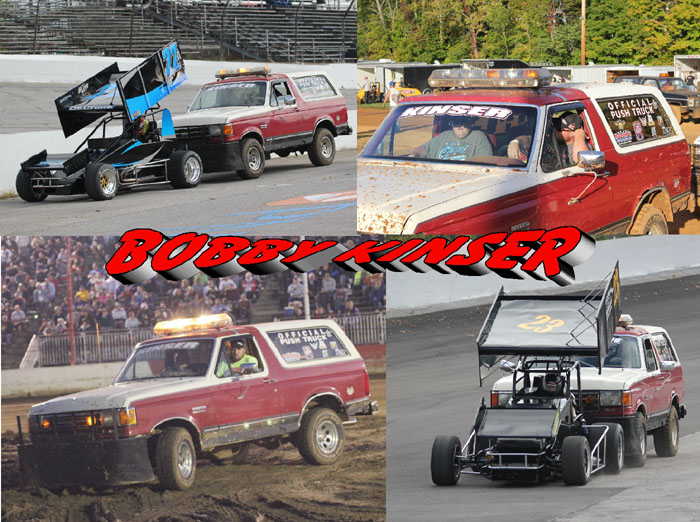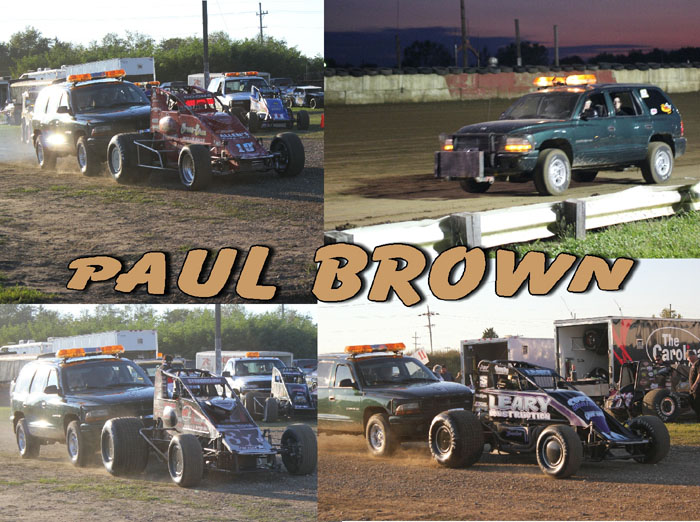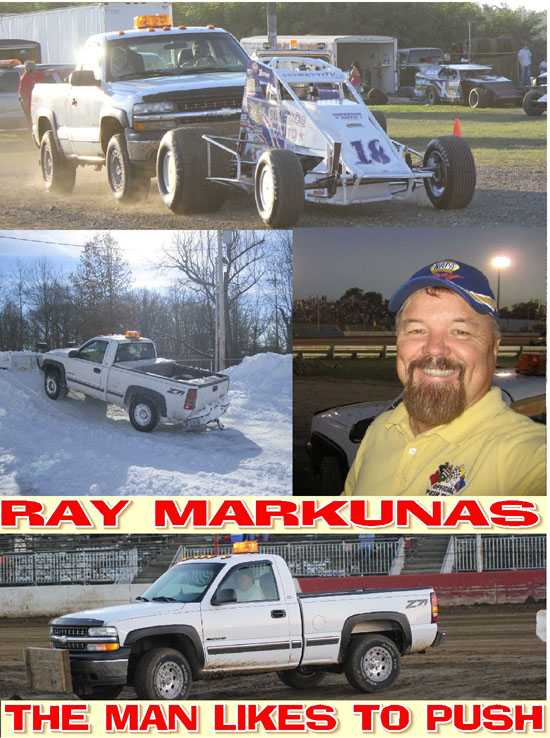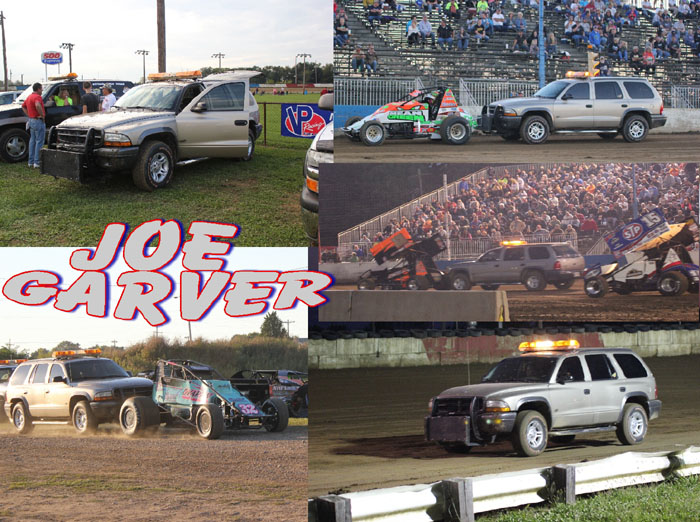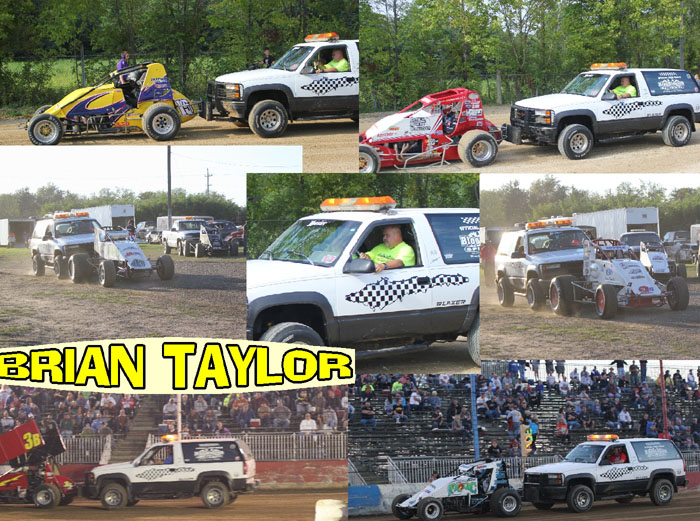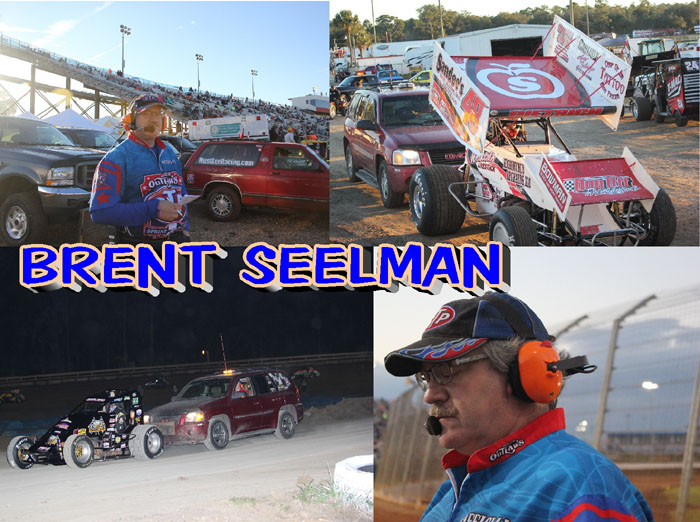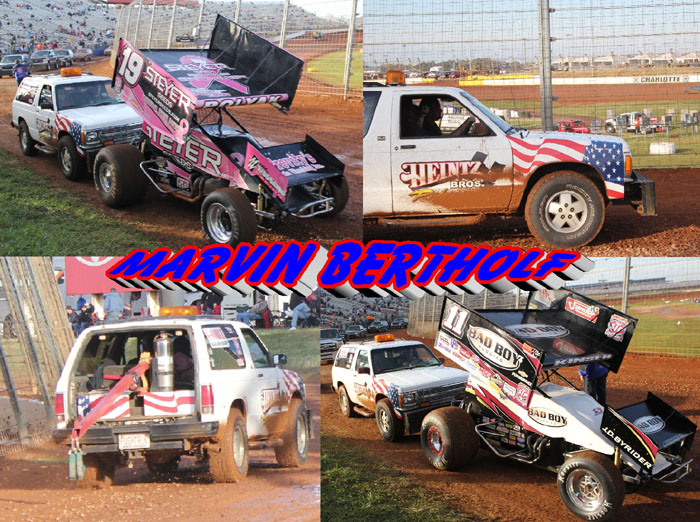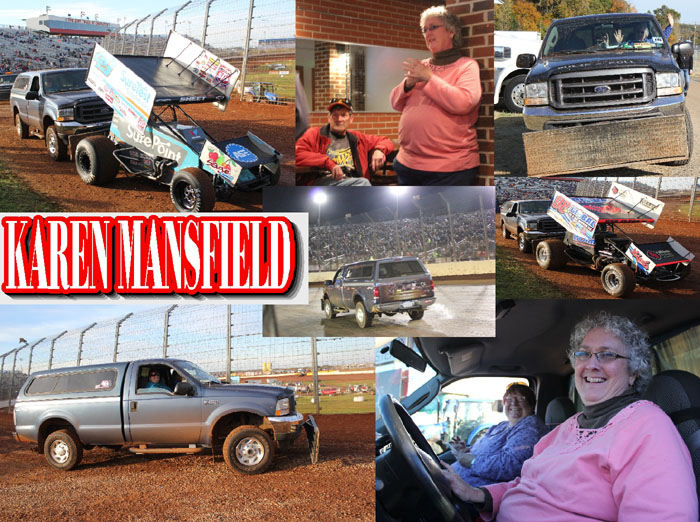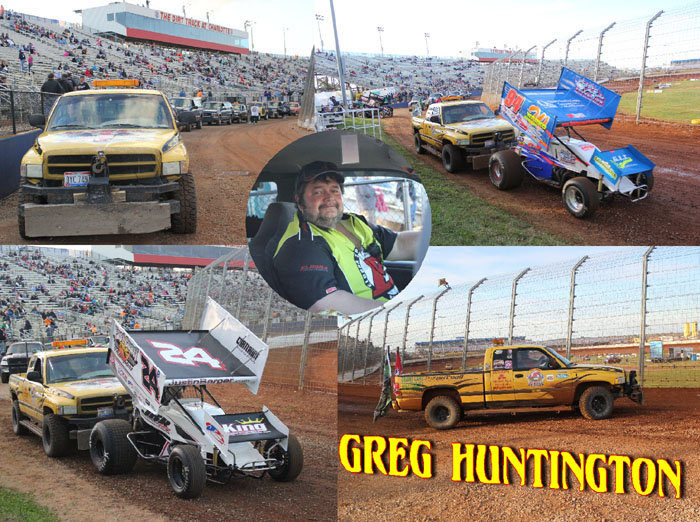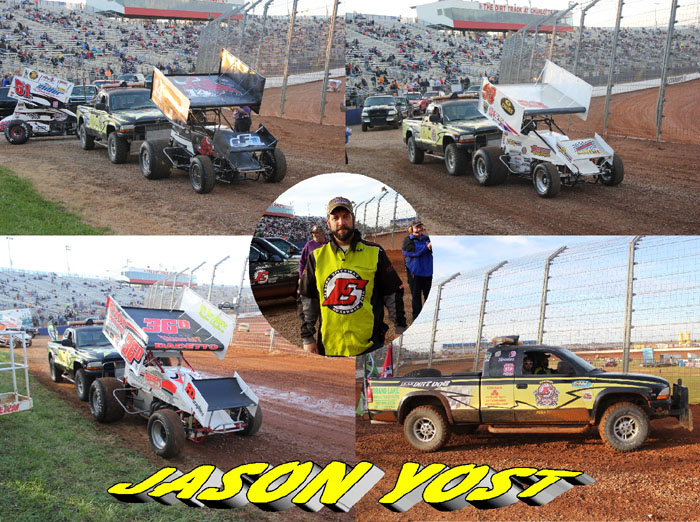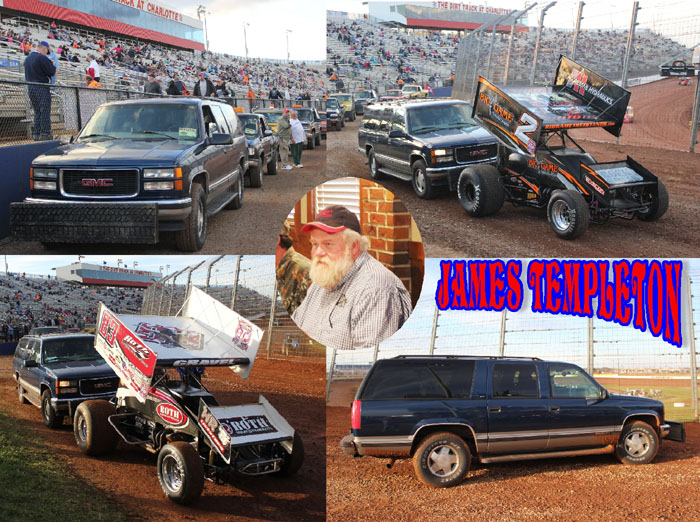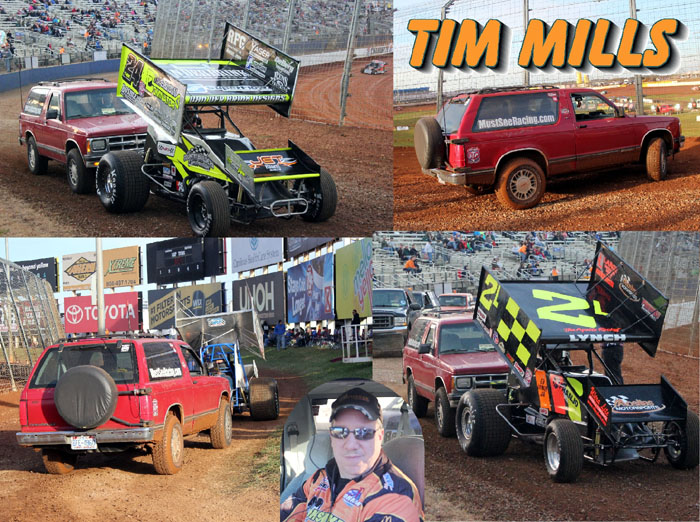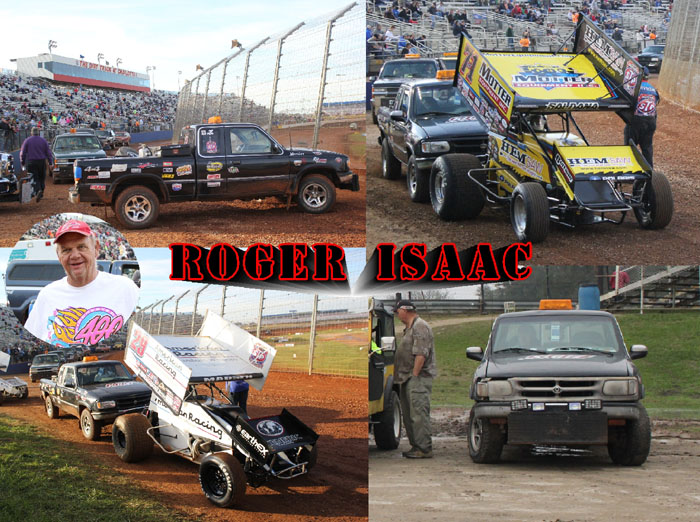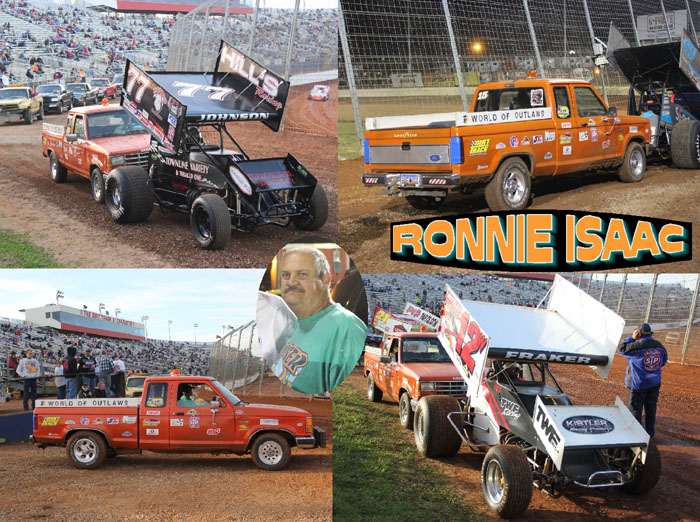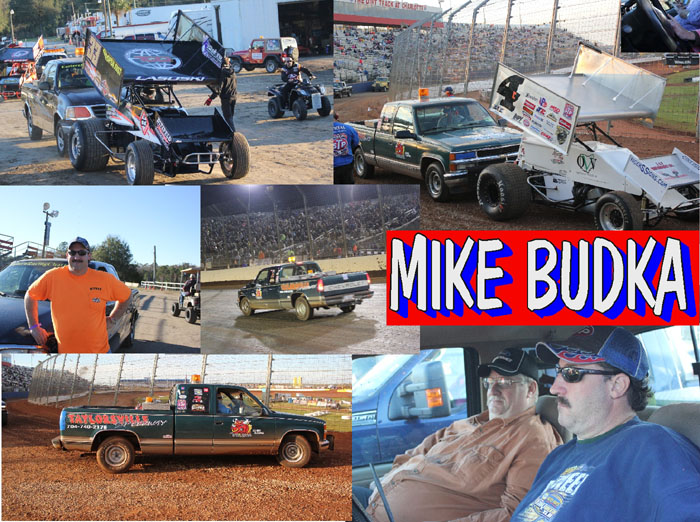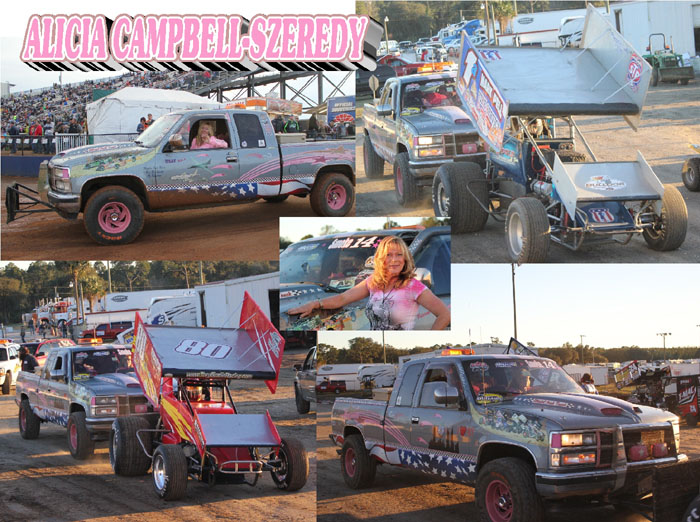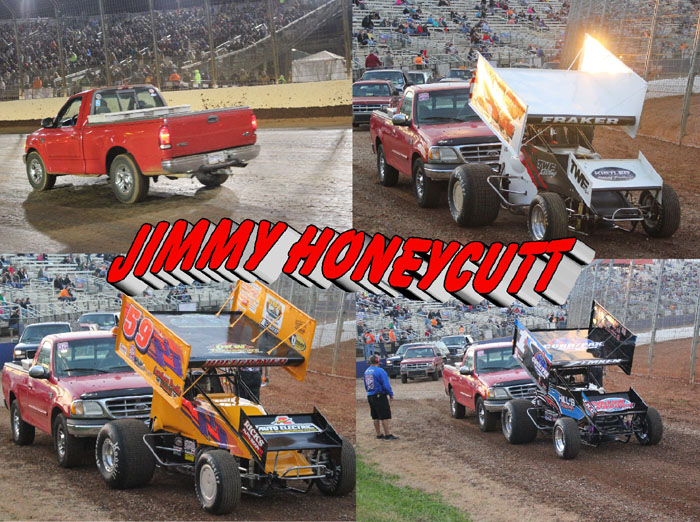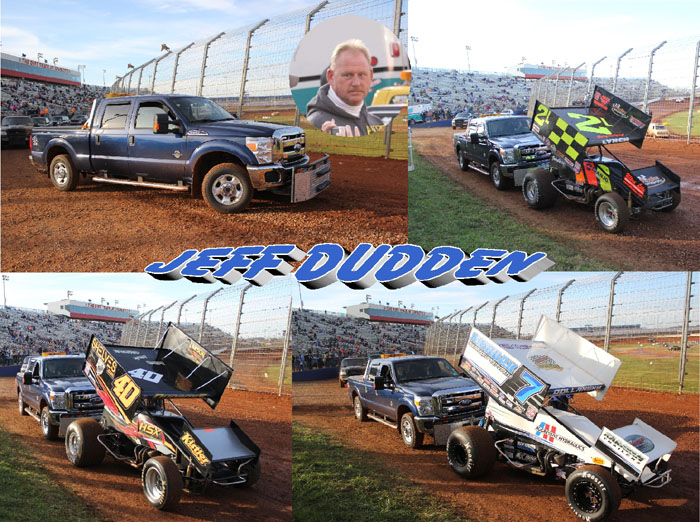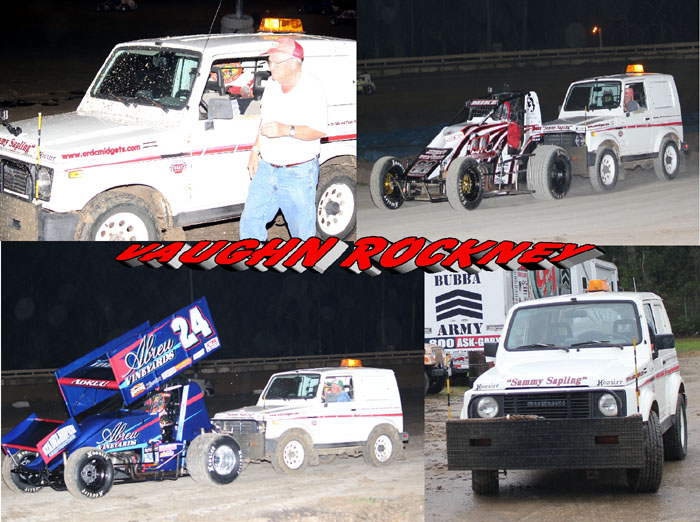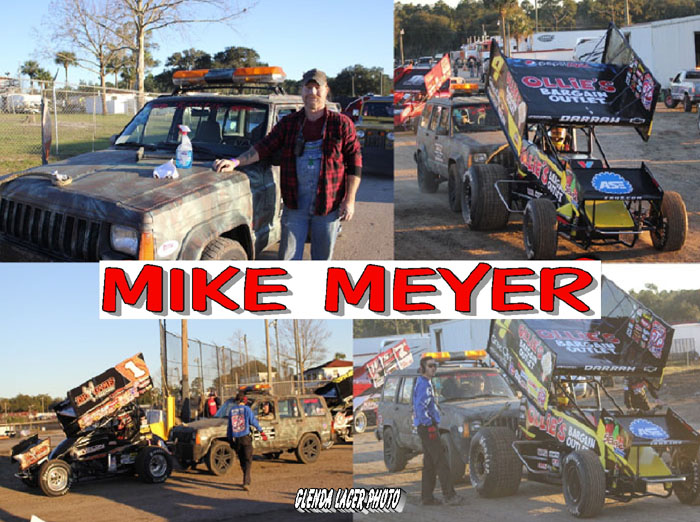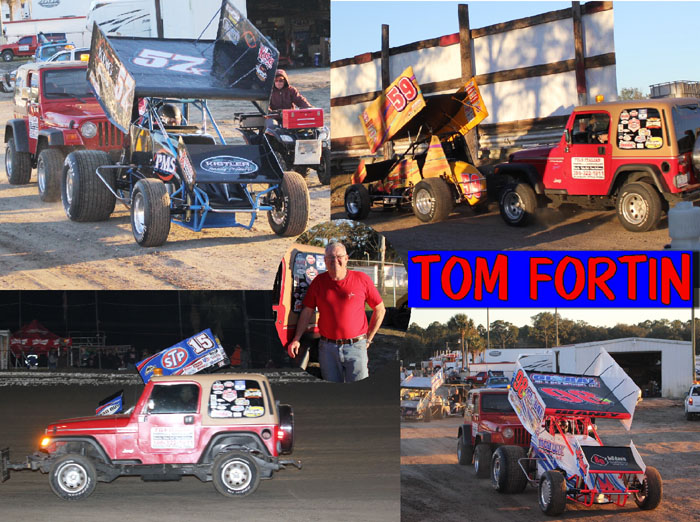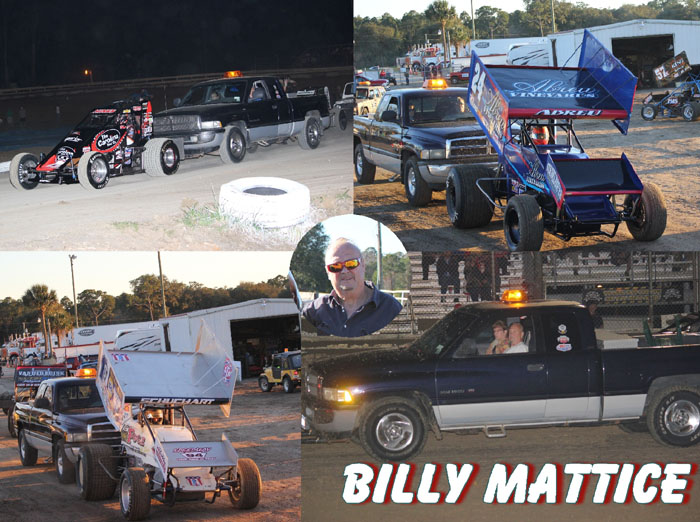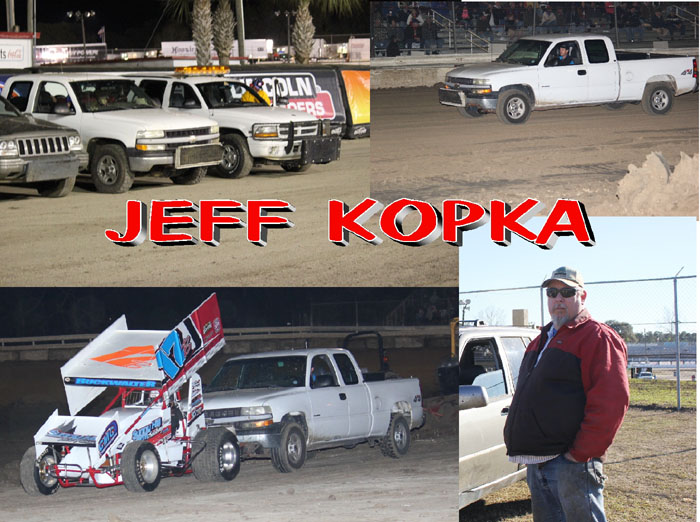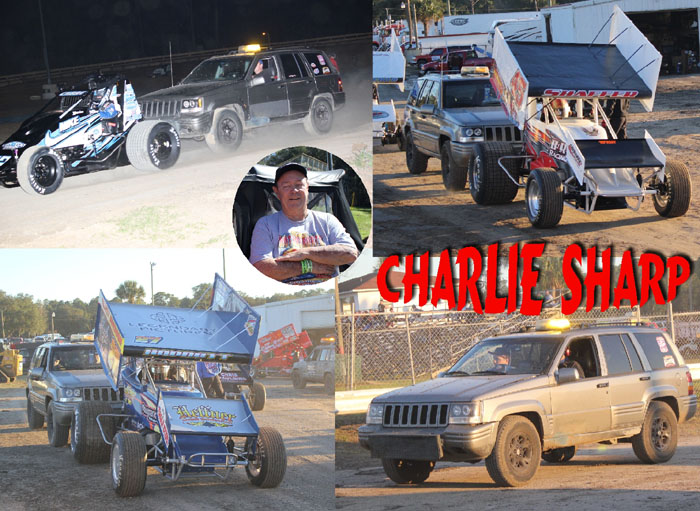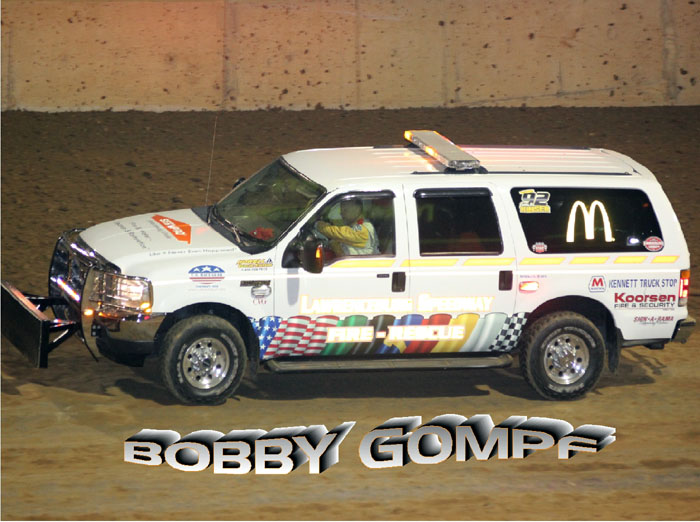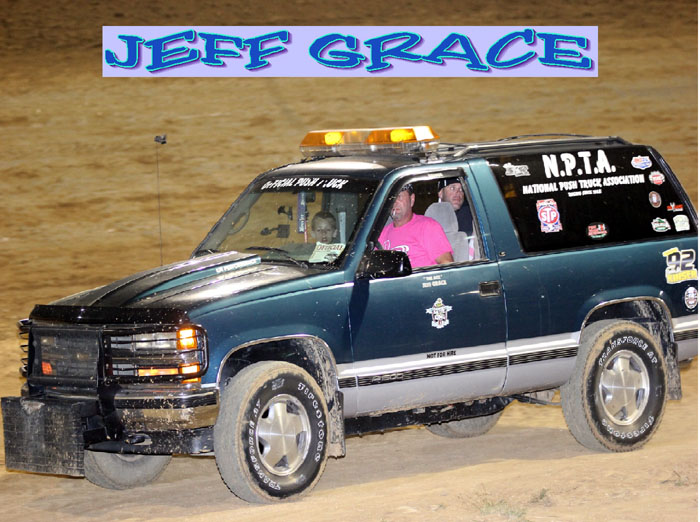 Those Most Thankful by Pastor Dudley Balmer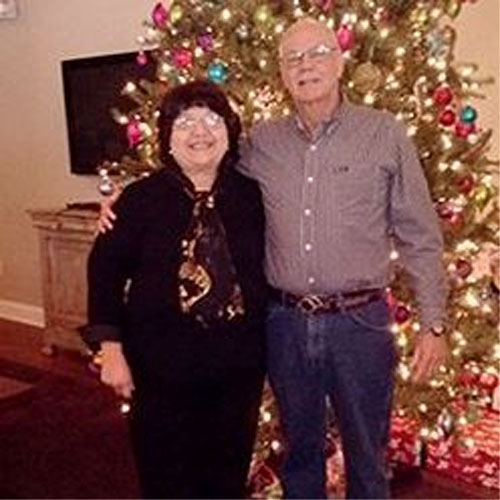 As we give thanks this Thanksgiving Day for our many blessings and launch an attack on the golden turkey, the 2014 racing season for the most part is only a memory. There are a few names that come to mind from the past season that might have special thanks to offer for an extra special racing season. Rico Abreu certainly had a memorable season and became a 2014 fan favorite. His personality and aggressive driving whether in a midget or sprint car has brought him respect and an abundance of new fans. In addition to being one of the winningest drivers in the country we all have seen the video of him along with Jonathan Allard pull Tim Kaeding from his burning car. Coast to coast, he was a factor where ever he competed. It will certainly be fun to watch where this young man's career takes him in future seasons. Likewise Christopher Bell has much to be thankful for this season. We met Christopher at Rick Ferkle's a couple years ago at the beginning of his career. A nicer young man you would never want to meet and he can wheel any type of race car to victory lane. Dirt or pavement, even a full bodied stock car. It makes little difference to this talented driver. There is no limit to where his future may lead and to the checks he will be able to cash. Christopher and Rico are two rising stars that are on their way to dominance in their sport. Another driver who again has defended his perch on top of the national sprint car scene is the tough Donny Schatz. Some would say that it is someone else's turn to win the WOO trophy but Donny has taken on all comers and once again stolen the hardware and the big money. After a difficult season for himself, Tony Stewart has to feel good about his sprint car operation. There is not much we can say about Tony's other driver, Steve Kinser. Steve has given the sprint car world much to be thankful for through the years as being the one to beat. This veteran has nothing left to prove. He has done it all. We can only imagine Thanksgiving dinner with the Kinser clan.
National Speedway Ministries has given Nancy and I an opportunity to interact with many racing folks from all over country, as does this column. For that we are most thankful. Knowing and working with folks like those mentioned above is certainly a privilege. We continue to be amazed at the response to this column. The relationships with the drivers, crews, track personnel, fans and press are what makes the effort worthwhile. Our involvement in vintage racing is also an exciting part of what we do. We are thankful for the opportunity to interact with the stars of seasons past and their cars that preceded the machines of today. Our friend, Bill Wendt is recovering from shoulder surgery after flipping his vintage midget at a recent DARRA event. Bill and the David Johnston crew plan again to attempt to set a speed record on the salt for a vintage Indy car in 2015. We are hoping this is the year all will fall into place for this monumental task. Also on another positive note, Millstream Speedway near Findlay, Ohio will reopen for the 2015 season. We have written about the failings of tracks around the country and we give thanks when one comes back after being dark for several seasons. New dirt is being hauled in for Eldora as that famed oval gets a racing surface facelift for the 2015 season. Another positive for the upcoming season.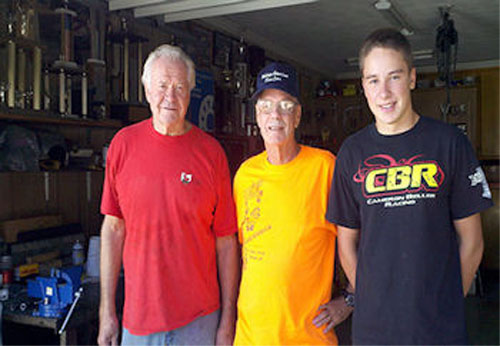 RICK FERKEL, DUDLEY BALMER, AND CHRISTOPHER BELL..
We are thankful for every team, official and fan that has made the effort to make and keep sprint car racing the sport it is. We add to that the thanks to every man and woman of our military that through their service, we can celebrate our day of thanks with the freedom of prayer and speech. We look forward to the new season with thanks of being able to participate in some capacity in fifty four past seasons since that first lap at The Greater Pittsburgh Speedway in 1961. Happy Thanksgiving to all. Enjoy the day with thanksgiving, fellowship, food and football. As ever, God Bless and see you at the races.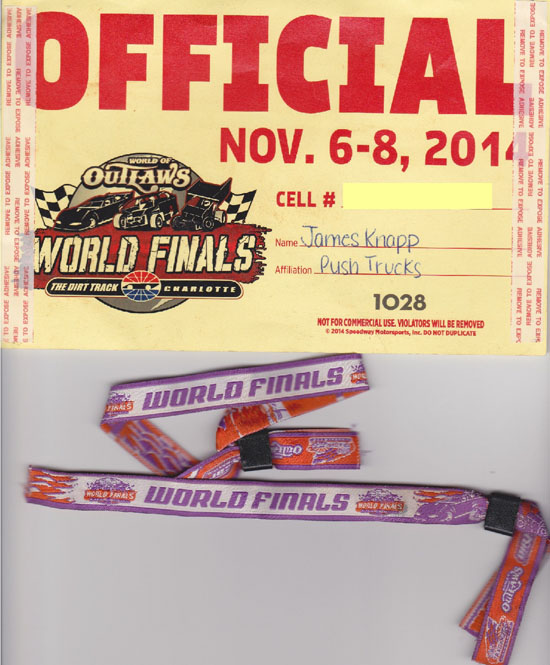 WE MADE IT TO THE 2014 WORLD FINALS IN CHARLOTTE, NORTH CAROLINA..WE HAD AN INTERNATIONAL PUSHING CREW WITH TWO PUSHERS FROM ONTARIO,CANADA AND TRUCKS FROM INDIANA, OHIO, PENNSYLVANIA, NEW YORK, NORTH CAROLINA, AND SOUTH CAROLINA..(Glenda Lacer photo)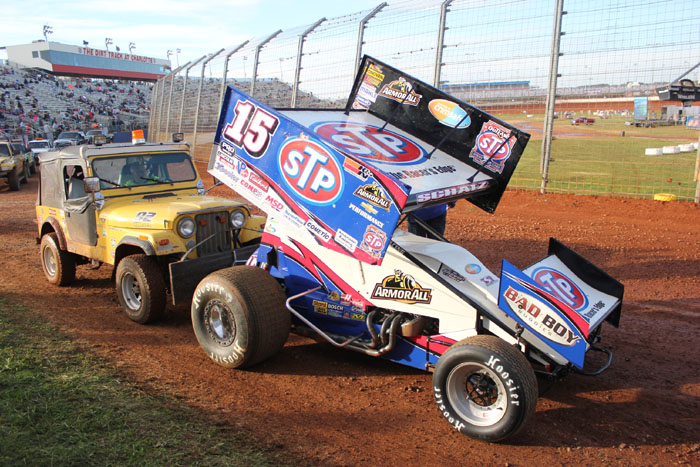 JIMMYJEEP PUSHING OFF THE 2014 WORLD OF OUTLAWS CHAMPION #15 DONNY SCHATZ..(Glenda Lacer photo)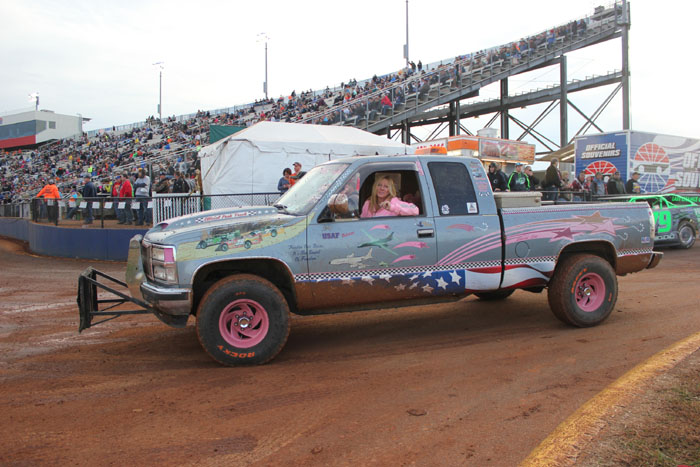 ALICIA CAMPBELL-SZERERY..(Glenda Lacer photo)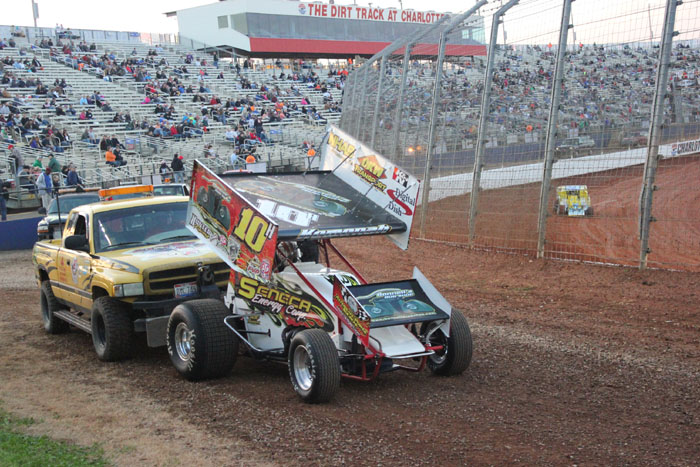 GREG HUNTINGTON PUSHING OFF #10H CHAD KEMENAH..(Glenda Lacer photo)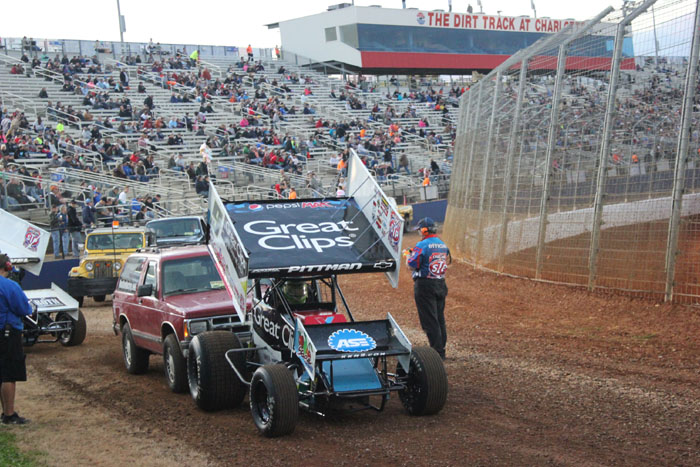 TIM MILLS PUSHING OFF FRIDAY NIGHT WINNER #9 DARYN PITTMAN..(Glenda Lacer photo)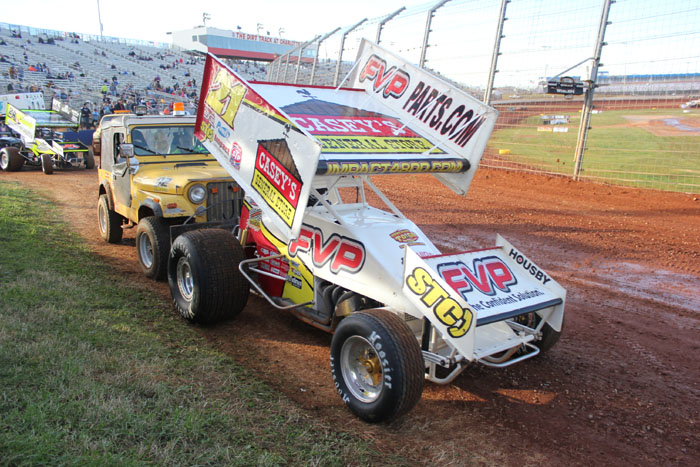 JIMMYJEEP PUSHING OFF SATURDAY NIGHT WINNER #21 BRIAN BROWN..(Glenda Lacer photo)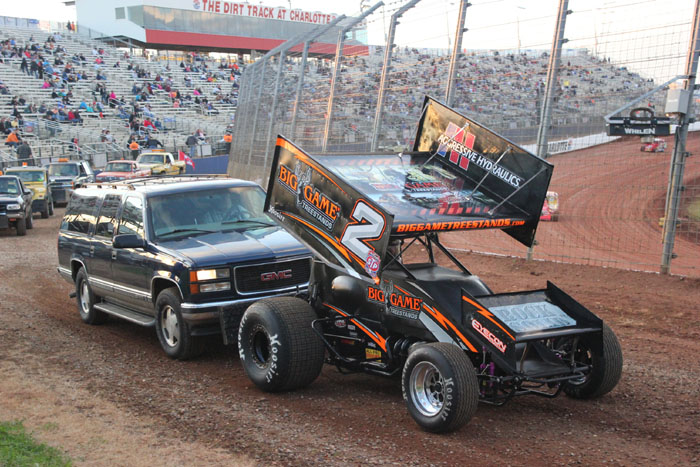 JAMES TEMPLETON PUSHING OFF #2D DANNY LASOSKI..(Glenda Lacer photo)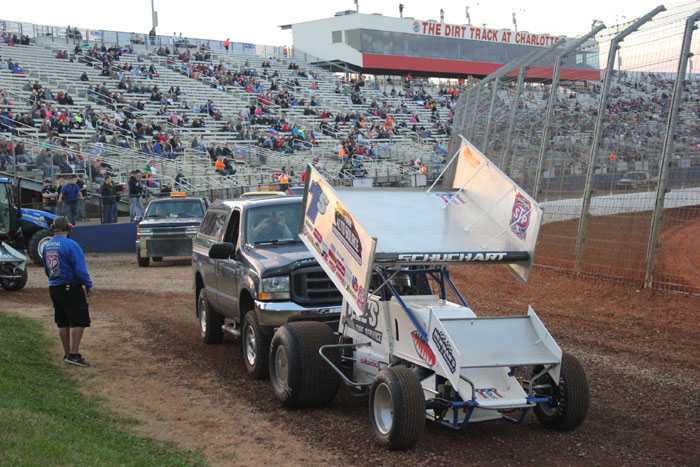 KAREN MANSFIELD PUSHING OFF #1S LOGAN SCHUCHART..(Glenda Lacer photo)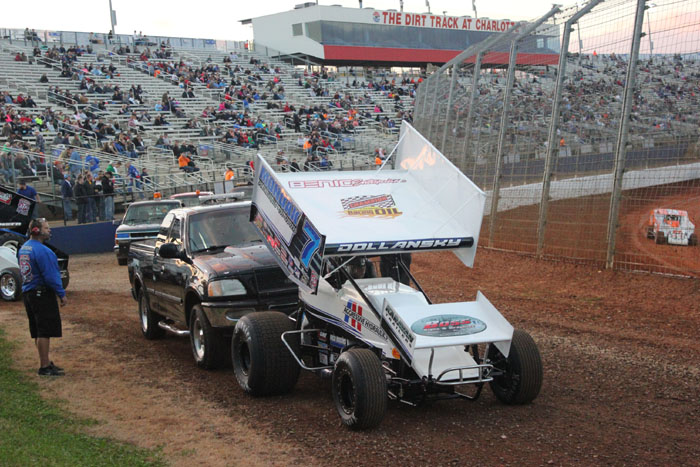 MIKE PICKENS PUSHING OFF #7 CRAIG DOLLANSKY..(Glenda Lacer photo)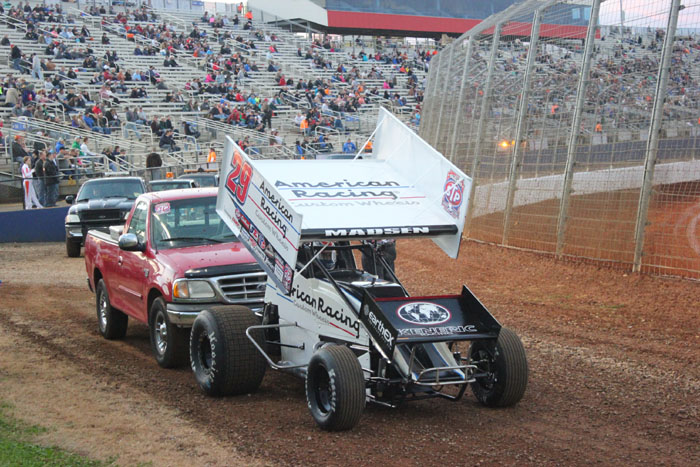 JIMMY HONEYCUTT PUSHING OFF #29 KERRY MADSEN..(Glenda Lacer photo)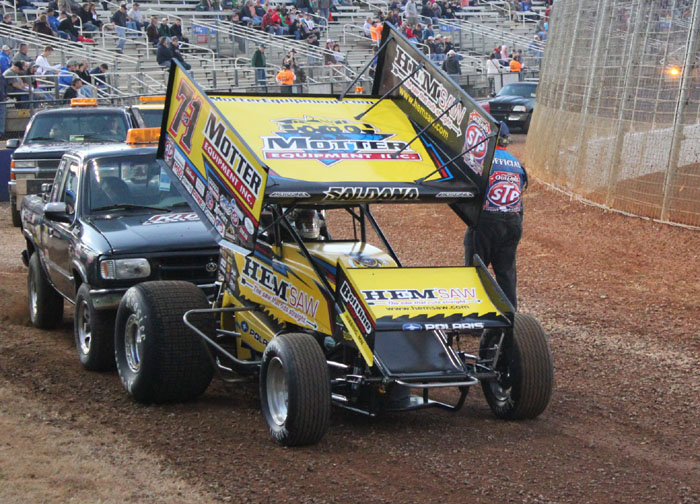 ROGER ISAAC PUSHING OFF #71 JOEY SALDANA..(Glenda Lacer photo)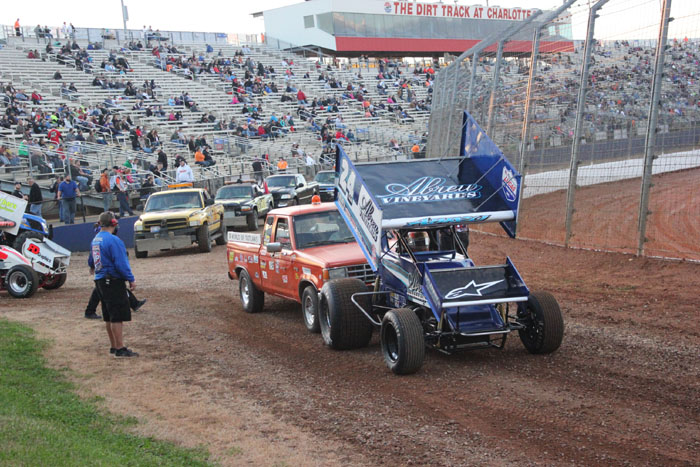 RONNIE ISAAC PUSHING OFF #24R RICO ABREU..(Glenda Lacer photo)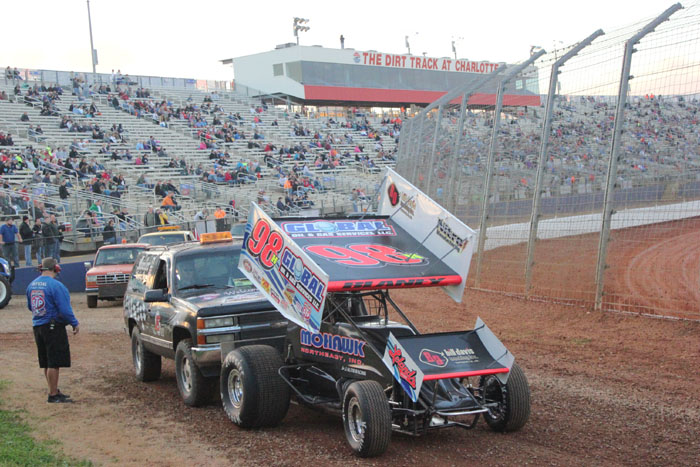 MIKE SIMPSON PUSHING OFF #98H DAVE BLANEY..(Glenda Lacer photo)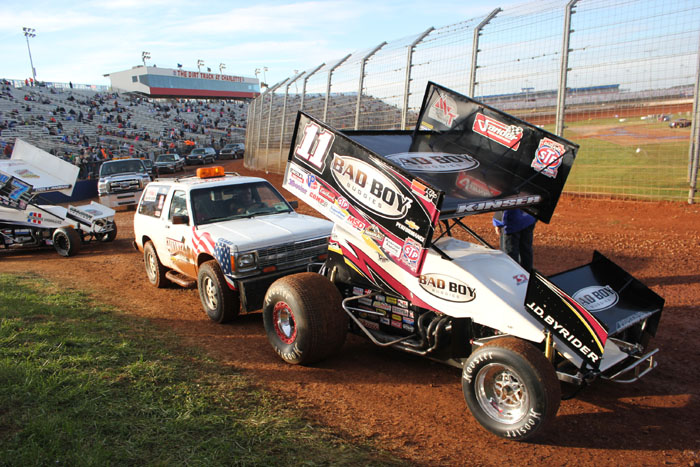 MARVIN BERTHOFF PUSHING OFF #11 STEVE KINSER..(Glenda Lacer photo)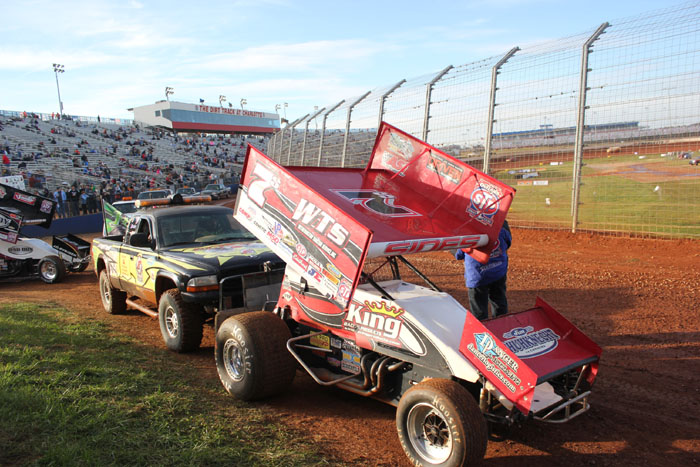 JASON YOST PUSHING OFF #7 JASON SIDES..(Glenda Lacer photo)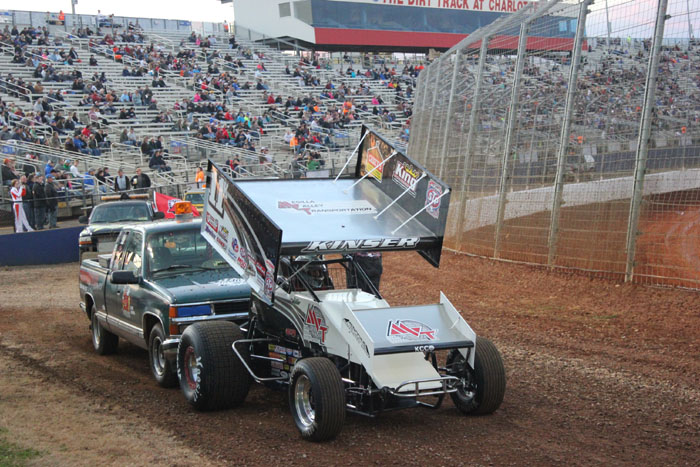 MIKE BUDKA PUSHING OFF #11K KRAIG KINSER..(Glenda Lacer photo)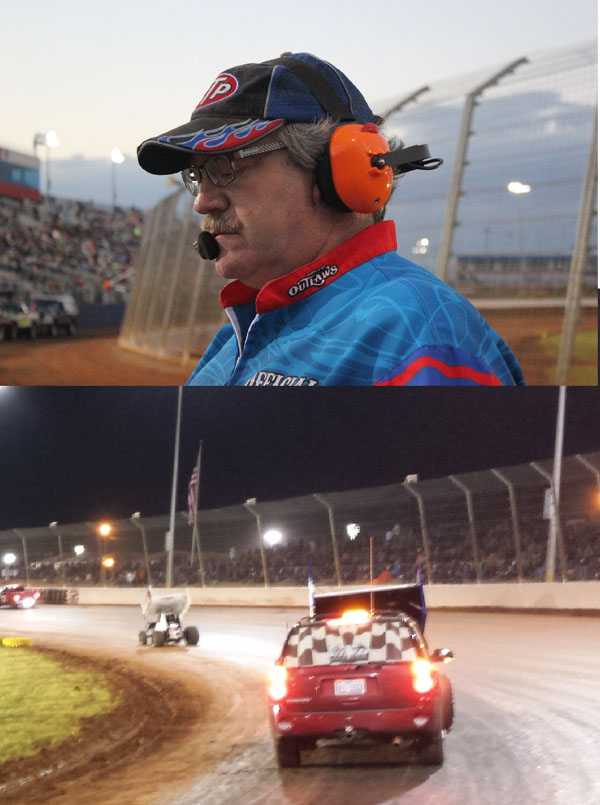 BRENT SEELMAN WAS KEPT BUSY WORKING THE SPRINT PIT OUT AND CONTROLING THE PUSH TRUCKS..HE PUSHED ONLY TWICE AND LEAD THE PUSHING CREW ON THE TRACK FRIDAY AND SATURDAY NIGHT..(Glenda Lacer photo)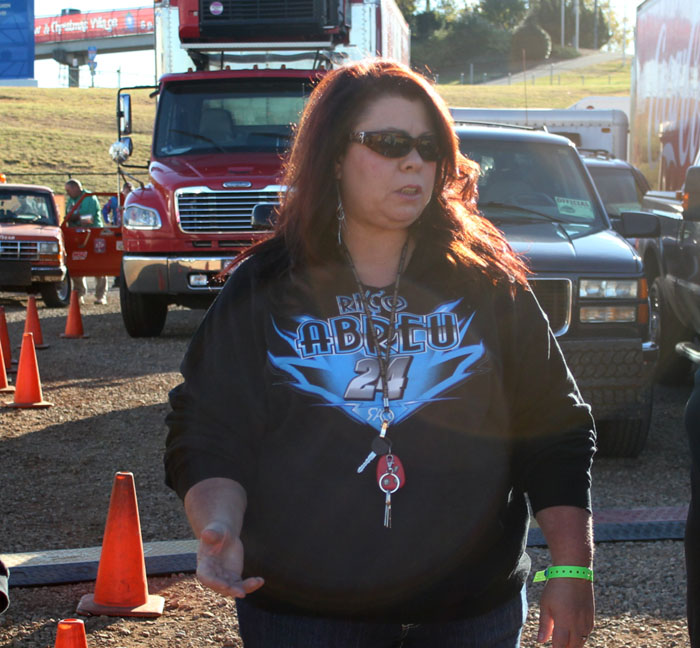 CHRIS SEELMAN WAS ON A HIGH SHOTING FOR SPEED SPORT NEWS UNTIL HER WORLD CAVED IN AFTER FRIDAY NIGHTS SHOW..THEIR CAR WAS BROKEN INTO AND ALL HER CAMERA EQUIPMENT WAS STOLEN..(Glenda Lacer photo)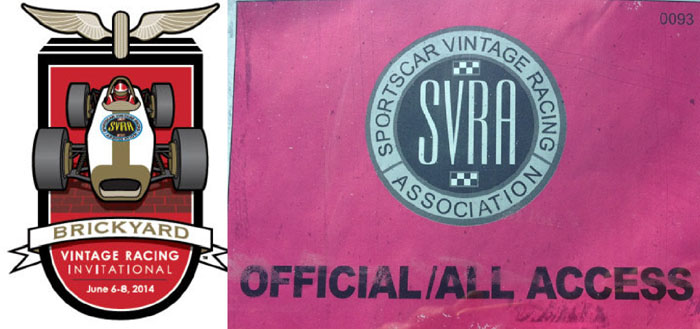 THE FIRST BRICKYARD VINTAGE RACING INVITATIONAL WAS HELD AT THE INDIANAPOLIS MOTOR SPEEDWAY JUNE 4-8, 2014..SPORTSCAR VINTAGE RACING ASSOCIATION WAS THE SANCTIONING BODY THAT PRODUCED OF THE SHOW..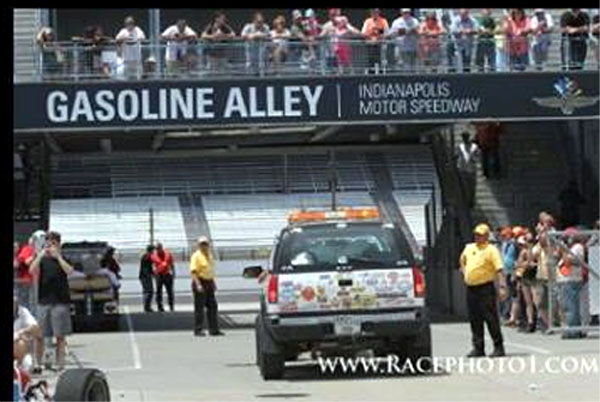 BOBBY GILL AND GLENNA DEZARN ENTER GASOLINE ALLEY..(Racephoto1.com photo)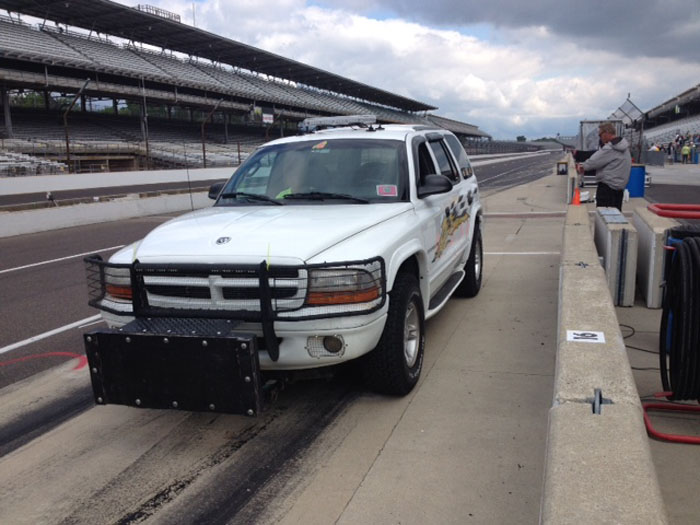 JOE CHAMBERS ON PIT ROAD WHERE JUST A COUPLE WEEKS BEFORE CARS FROM THE INDY 500 WERE SERVICED DURING THE RACE..(Joe Chambers photo)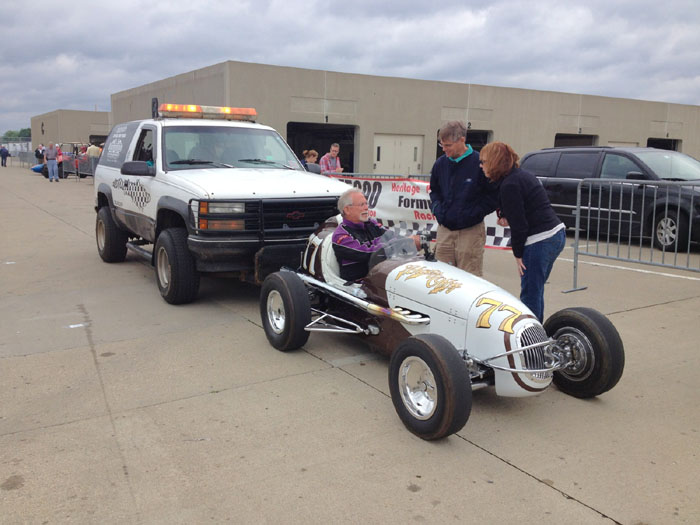 ONE OF THE MIDGETS THAT HAD BOBBY GILL AND GLENNA DEZARN HAD TO PUSH RAN ON THE OVAL AT IMS..(Glenna Dezarn photo)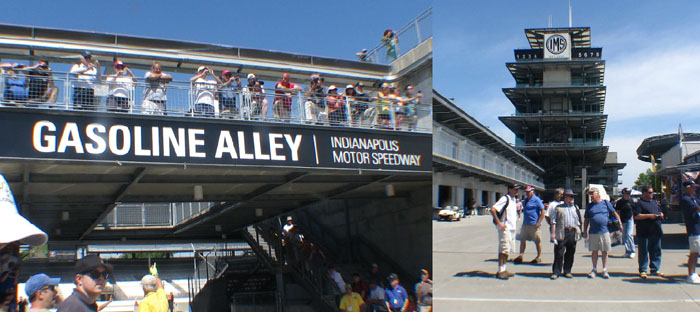 GASOLINE ALLEY AND THE INDY 500 PAGODA..(Joe Chambers photo)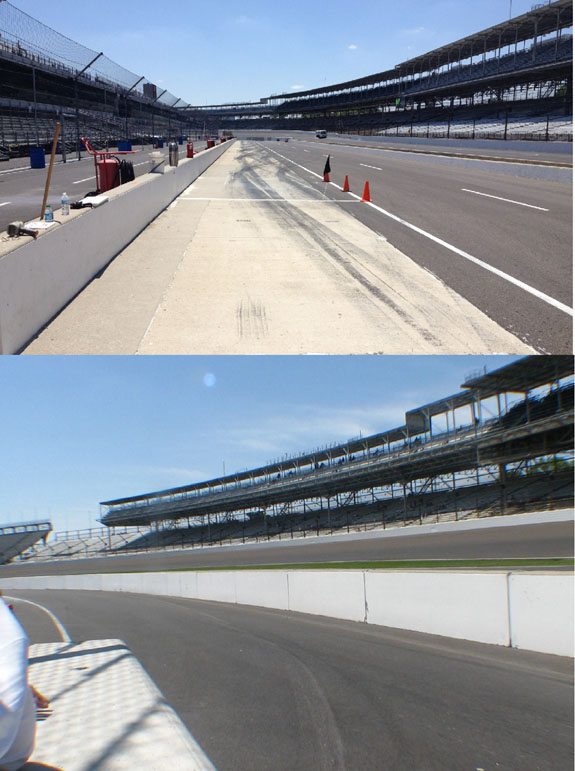 PIT ROAD AND TURN ONE AT INDY..(Joe Chambers photo)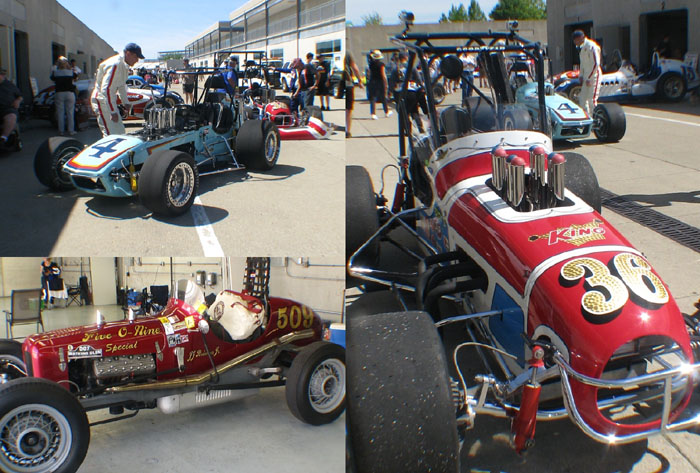 SOME OF THE SPRINT CARS AND A BIG CAR THAT RAN ON THE TRACK..(Glenna Dezarn photo)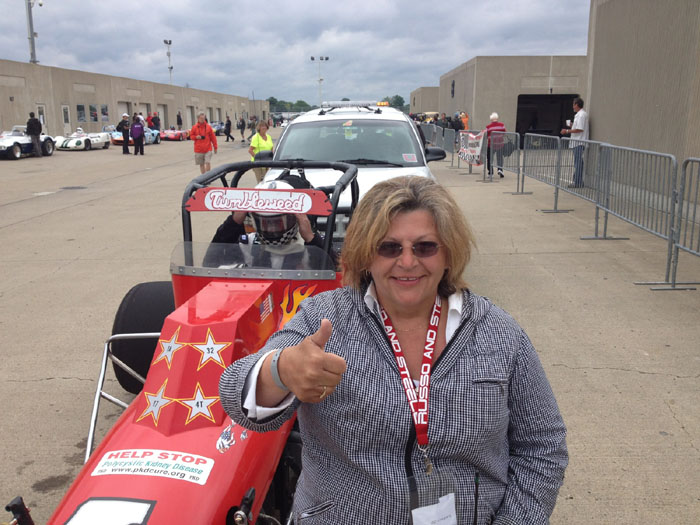 EDITOR PAM SHATRAW FROM VICTORY LANE MAGAZINE AND NOW WITH SPORTSCAR VINTAGE RACING ASSOCIATION..(Glenna Dezarn photo)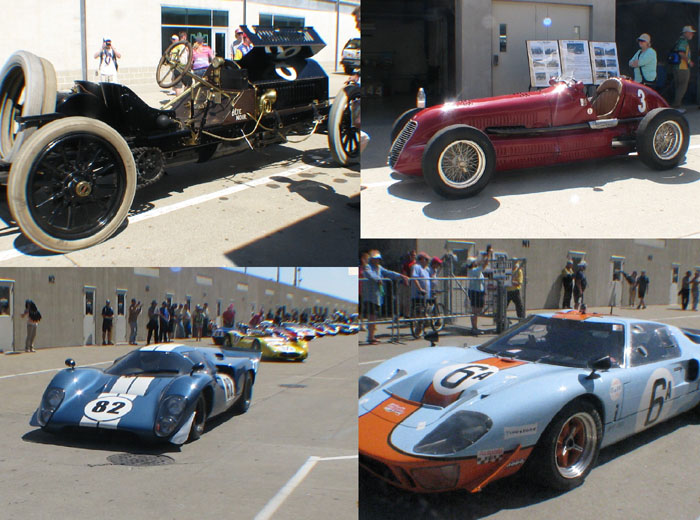 SOME OF THE OVER 700 TYPES OF CARS THAT RAN AT THE FIRST BRICKYARD VINTAGE RACING INVITATIONAL..(Glenna Dezarn photo)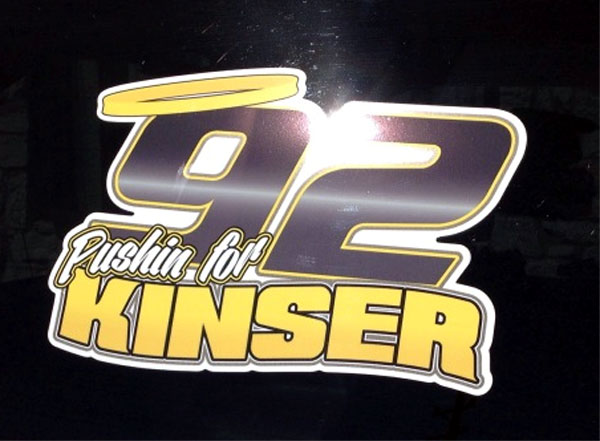 KINSER EDWARD CLAYTON SON OF SPRINT CAR RACER DARON AND SHELLEY SUZANNE KINSER CLAYTON PASSED AWAY ON SEPTEMBER 15, 2014..HE LOVED WATCHING HIS DADDY RACE AND I UNDERSTAND PUSH TRUCKS..ON SEPTEMBER 22, 2014 SEVEN OF OUR PUSH TRUCKS LEAD THE FUNERAL PROCESSION FOR THE 16 MONTH OLD FAN..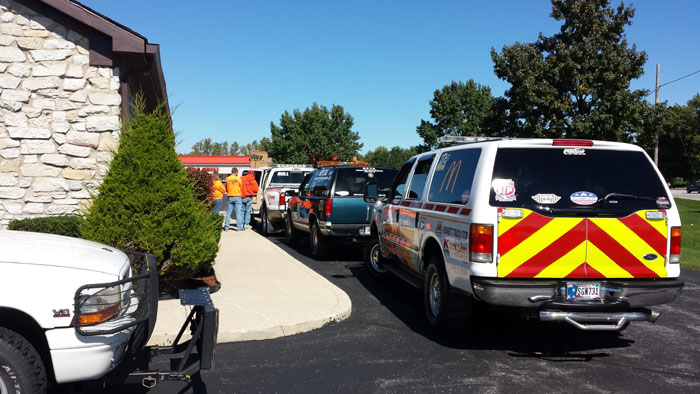 TWO OF THE LAWRENCEBURG RESCUE TRUCKS AND JEFF GRACE..(Ray Markunas photo)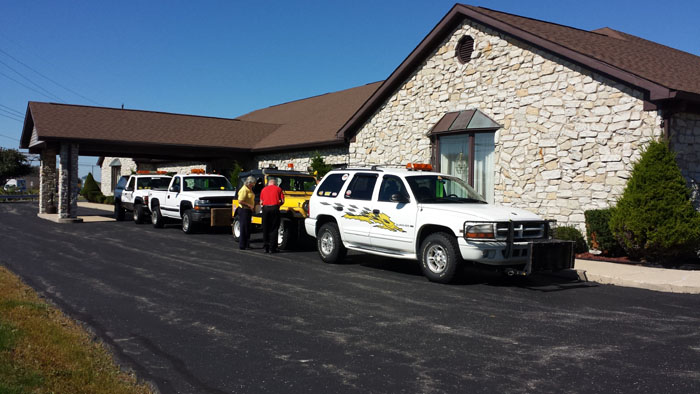 JOE CHAMBERS, JIMMYJEEP, RAY MARKUNAS, AND GLENNA DEZARN..(Ray Markunas photo)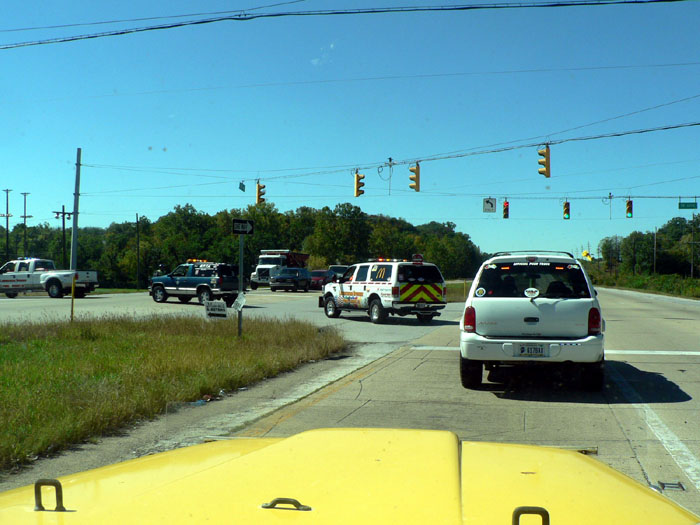 ON THE ROAD TO THE CEMETERY..(Glenda Lacer photo)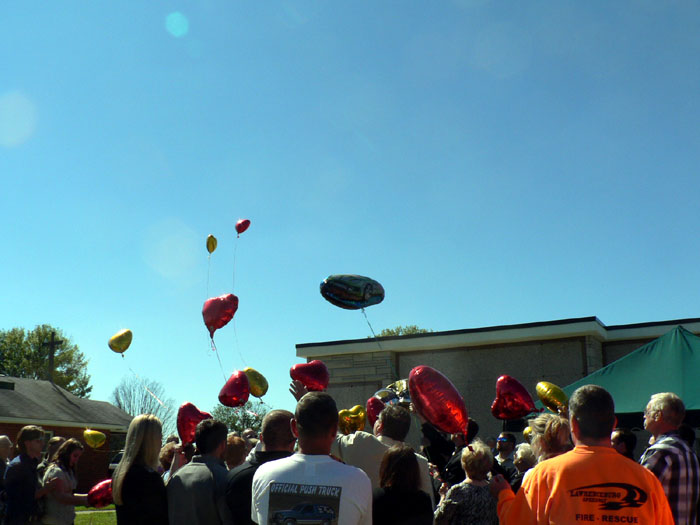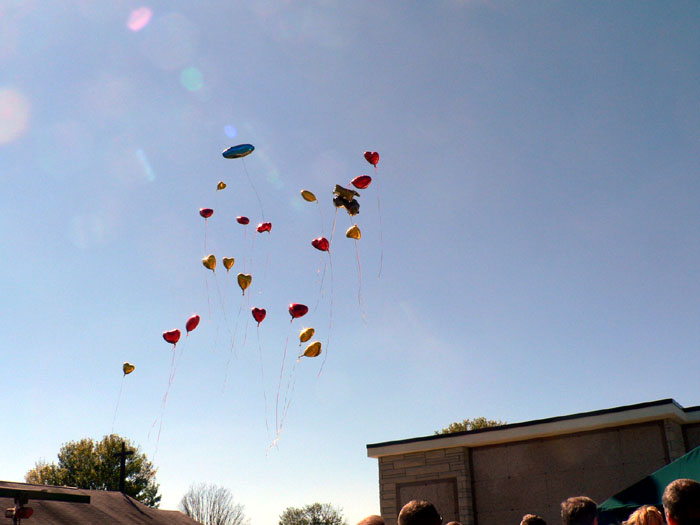 BALLOON RELEASE AT THE END THE CEREMONY..(Glenda Lacer photo)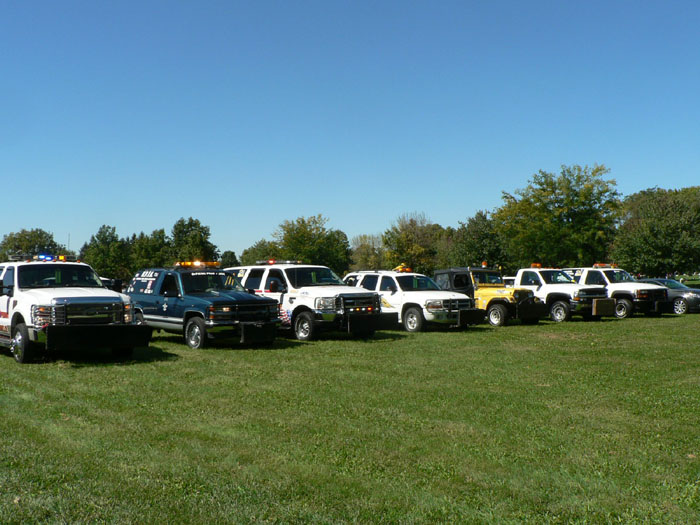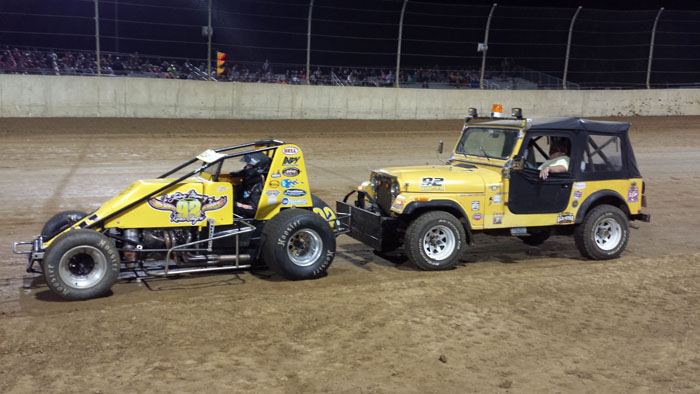 DARON CLAYTON RETURNED TO USAC RACING ON SEPTEMBER 27, 2014 AT LAWRENCEBURG SPEEDWAY..(Glenda Lacer photo)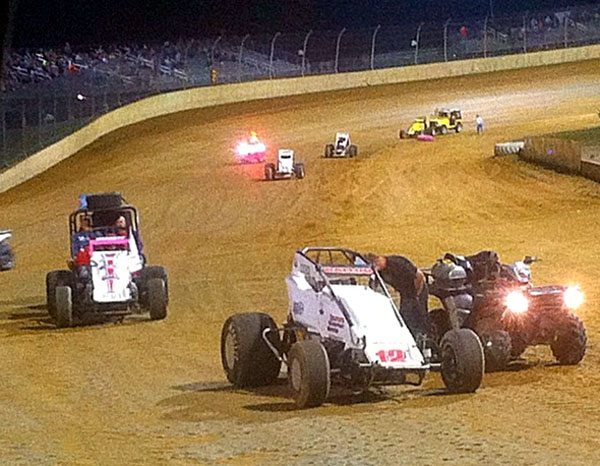 GETTING READY TO PUSH OFF THE FEATURE..(Risa Pickens photo)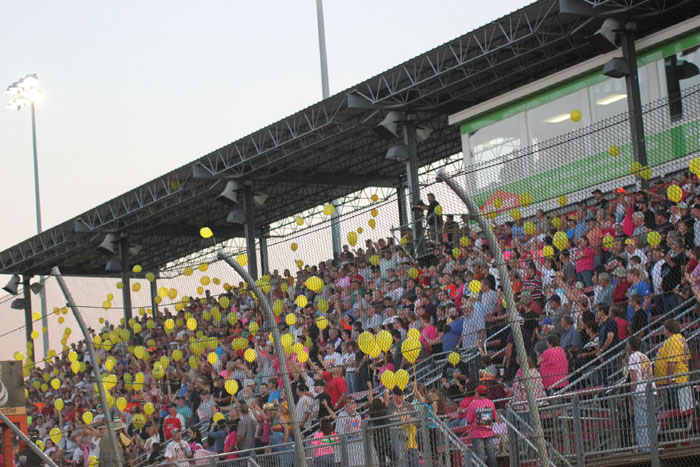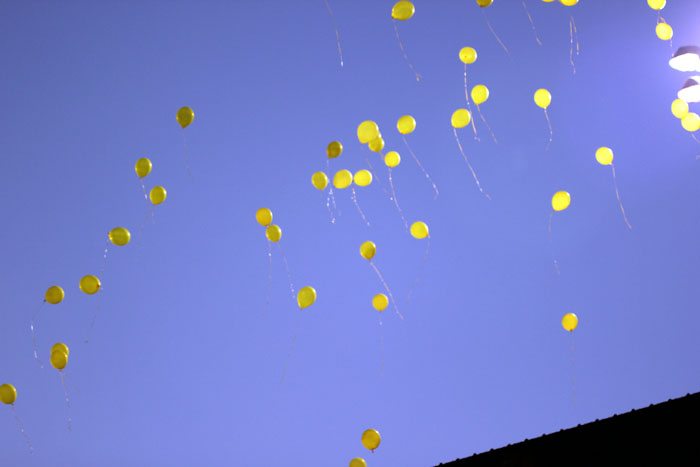 THERE WAS A BALLOON RELEASE AT LAWRENCEBURG IN MEMORY OF KINSER..(Glenda Lacer photo)

A NEW CAN OF WORMS by Pastor Dudley Balmer
This past week brought a long overdue close to the Stewart / Ward incident. With our prayers still going out for the Ward family for their loss, the autopsy certainly opened a new can of worms. Within minutes of the revelation of the toxicology results I was getting phone calls, emails and texts saying that others frequently see or have seen drug use in the pits by competitors. Weed was not the only substance mentioned by these folks as hard drugs apparently are in use as well. A well known driver in a major series was witnessed doing a line of coke in his trailer so I'm told, again hearsay, before strapping in the race car. We all knew that many years ago there was occasional smoke around a few of the cars but certainly nothing like what we apparently have today. One father said it was very troubling to him that his son was racing next to someone who was under the influence of a mind altering substance. Adult beverages have never been allowed in the pits. There is sound reasoning behind that long standing practice. This recent death brought sprint car racing into the spotlight in a negative way. Since there was enough marijuana in Mr. Ward to impair his judgement, their observation not mine, one would imagine that a wrongful death suit against Tony Stewart would not carry much weight. The racing community however can not survive if on track incidents become subject to legal scrutiny. Racers and racing as a whole would not survive continual legal attacks. All the legal ramifications aside, which of us want to run into a corner with someone who is not in complete control of his faculties. What lies in store for us in the future? Will we have to pee in a bottle before we get our arm bands or will officials ignore the problem till a major tragedy forces the issue to the forefront again? Certainly all major sports are finding that if they don't keep their house in order there is an outsider more than ready to do it for them. While discussing the drug situation with a retired state detective, light was brought to my attention of the responsibility of track management and their being held complicit in a fatality. He also stated that with the rate of dissipation of marijuana in the body and considering the amount reported in the young man in the New York incident and considering the time line, he was surely partaking while on speedway grounds. His family's attacks on Tony Stewart and others are perhaps understandable, but also regrettable and ill-advised. The whole family supposedly loves racing and must realize that it is a contact sport, often with high emotion. Note the response of Kevin Ward Jr. to the on track incident. Is the high of racing a sprint car lacking for these individuals? When a fatality results from someone found to be under the influence where will the legal responsibilities end? Certainly not only the driver but the owner, sponsors and the track itself will be accountable. All will share in the legal ramifications. The names and information shared with me in confidence by the concerned observers will remain in confidence. As I follow the careers of the folks mentioned to me, I can only hope that future press releases will contain only details of their competition activities. Teams can not compete under the constant threat of legal action for every on track mishap. Once the doors to the attorneys office are swung open they can never again be closed. Apparently this issue is far more common than most of us have known. The challenges of our sport seem to be mounting and it is disappointing to know that some are coming from the participants themselves. If those in charge fail to address the issue now that it has surfaced, someone else surely will.
With the Daron Clayton family dealing with the loss of their little son Kinser it was heartwarming to see the push vehicles making the trip to lead his procession. Jimmy Jeep Knapp said that seven vehicles were on hand to lend their support. The racing family continues to care for its own. Good job ladies and gentlemen.
Our recent trip to North Florida Speedway was a great evening with our Daytona Antique Auto Racing Assoc. friends. Much of the evening was spent with past president Dale Miller. It was good to catch up with a good friend while watching some fast on track competition. A fun night for sure. All folks planning to attend the DAARA Winter Nationals should be getting their banquet reservations in as not to have to sit in the parking lot and smell the good food from a distance. Remember, the time is earlier this year with activities beginning November 5th running through the 8th.
Much of our racing excitement this season has come from you folks. Thanks for keeping us in the loop. We still look forward to meeting as many of you as possible. Remember too that online signup for the CAP program can be done through our nationalspeedwayministries.com web site. The 2015 season is just around the corner. What better Christmas gift could you give your favorite racer than a year of CAP protection? Till next time, as always, God Bless and see you at the races.

TIME TO MOVE FORWARD by Pastor Dudley Balmer
NASCAR driver Tony Stewart ran over a competitor, 20-year-old Kevin Ward Jr., during a confrontation at a sprint car race on Saturday night.
Kevin Ward Jr., a 20-year-old race car driver, was killed Saturday night after he was struck on the track by NASCAR star Tony Stewart.
Famed race car driver Tony Stewart hit fellow driver Kevin Ward, Jr. at Canandaigua Motorsports Park on Saturday night.
These were the kinds of headlines we woke up to that recent Sunday morning following the death of Kevin Ward Jr. First and foremost our hearts go out to the Ward family, his crew and all who are affected by his passing. This will long be remembered as a black day for sprint car racing in general. Reading the first accounts by writers that obviously know little about dirt track racing and less about Tony Stewart, one would have thought that he had chased down the other driver with a mindset to do him harm. After seeing the video and the computer reconstruction more times than I care to remember, certainly it is the lack of forethought by Mr. Ward that is responsible for his death. Slow motion and some video experts state the the angry driver was actually attempting to jump on Stewart's car. Whether this is actually the case or not he was clearly going after the moving 14. After nearly being hit by the blue car he was undeterred in his pursuit of Stewart. How can responsibility be placed on a driver who held his line and was respecting the speed dictated by the yellow? Many of us have gotten out of our race cars in anger but most have not lost all reason or self control. Watching the cars enter the fateful corner it is easy to see the hard slick shiny surface. Tony got in a bit too hard and lost side bite. Something not mentioned is the possibility that as the 14 slid up that Ward could possibly have lifted, dove under the loose 14 and might have pulled him coming off the corner since the 14 had obviously lost bite on the slick track. Other brilliant minds ask why did Stewart have to go in so hard against lesser competition. My reply to that would be what driver straps in with the attitude of just making laps and allowing other drivers to just feel good? When the green comes out a race driver races. Tony races because he loves sprint car racing and he wants to promote the sport and he does this at great personal expense. The brilliant reporters who appeared on all the news outlets portrayed Stewart as an uncaring hothead bent on doing harm to any competitor who got in his way. Most of these journalists did not even have a picture of his sprint car to post and many inferred that the race was somehow sanctioned by NASCAR. There is so much wrong with what happened that night and the period that followed. A racing deal gone bad. A young man dead. Perhaps the greatest ambassador for sprint car racing in recent memory on the sidelines from sprint car racing for who knows how long. Sprint car racing in general taking an unneeded hit by an uneducated media that is intent on making the story rather than reporting the facts. It was truly a bad night in so many ways. Certainly Tony is getting advice from an innumerable amount of sources, legal, financial, sponsors, family and fans. If I could ad my two cents worth I would just say racing in general and sprint car racing in particular needs you back. Sprint car racing would take a serious hit if Tony picked up all his toys and went home. It is good to hear Tony will be back in the Stewart Hass 14 at Atlanta.
I first met Tony in 1996 at Indy. He was good for Indy car racing as he has been for NASCAR and sprint car racing. He is one of the few that transcends labels and territories. He is private in his charities, public in his support for our sport and an asset we can ill afford to lose. Again, it was a bad racing deal and our hearts go out to the Ward family. Our support for Tony in no way lessens our concern for the Wards and everything they are going through.
The big news this week in sprint car racing has to be the sudden retirement of Sammy Swindell which caught most of us by surprise. We wish Sammy and Amy the best in their future ventures. Watching Sammy and Steve battle through the years has been a treat indeed. Sammy has done so much for racing, in and out of the car for over four decades. Thanks for the memories. Both Sammy and Steve will leave a big vacancy in our sport.
Though our motorhome took a lightning hit recently we still plan to take in the upcoming DAARA Southern Vintage Series event at North Florida Speedway on September 13th. No tv or fridge so we will have to rough it a bit. Also, the DAARA Nationals are early this year so make plans soon to head to the "Bullring" Nov. 5th for three days of vintage racing at its best. Reservations for the banquet absolutely must be in by October 27th. It would probably be a good idea not to wait to the last minute. As they say on tv, place your order now. That is about it for this round from the Dead Lakes in Wewahitchka. We appreciate the comments, both good and bad. As always, God bless and see you at the races.

BUCKEYE OUTLAW SPRINT SERIES by Pastor Dudley Balmer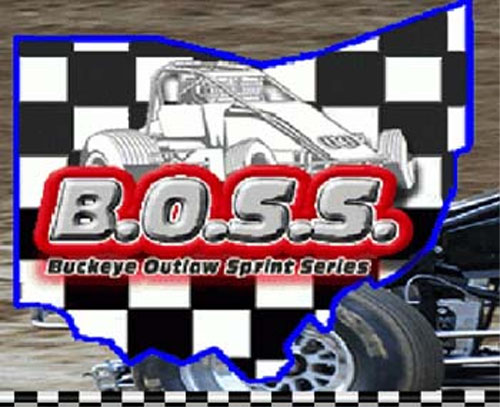 Last season I had the pleasure of taking in a Buckeye Outlaw Sprint Series show at Pennsylvania Motor Speedway. What I saw that night was truly impressive. First there was a full field of satisfied competitors. No one I talked with had anything negative to say about the BOSS organization, actually just the opposite. This was reinforced by the Frederickson race team from Kokomo, IN at the recent Waynesfield, Ohio show where there were over fifty cars in the pits. The senior Frederickson said they signed in, raced, got paid and went home. I had the pleasure of talking to Aalan Fry, head of the Buckeye Machine Outlaw Sprint Series about the positive aspects of racing with the Buckeye boys. Aalan reminded me that former Ohio driver Rusty McClure is a big asset to, and promoter of the BOSS organization. Some of the positives of BOSS are no tire rule, no organization to join, and teams can race the rest of the season where they want and maintain their BOSS points. Race one show with BOSS or make every event, its your choice. These things are truly big in the budgets of independent teams. When talking to Aalan he reminded me that teams don't need a raceiver or a transponder to compete with the BOSS group. This is another money saver. This is truly an "outlaw" non wing deal with the race teams in mind. The tire rule is a tremendous burden to any team that wants to travel away from home. Every season the tire rule changes so last years tires are now useless. Tires must be bought for racing at home and if traveling, most series maintain their own tire specs, so another inventory of tires are required. If you want to run with most series you must join their organization, adhere to their tire rule and their regulations. With the BOSS series, show up with a safe sprint car, pay your normal pit fee and race. Also, there is a $50.00 bonus for the top finishing steel block motor. They have other contingency awards each week as well. There are no van loads of paid staff in neat uniforms for BOSS as they get it done with four folks, one being a videographer. Lernerville has said that the BOSS show was one of the most competitive and best received shows they have had in a while. Other tracks echo their sentiment. It was great to have friend and BOSS regular Tony Beaber win the point title in 2013. To repeat will be a serious challenge as this is a very competitive organization. Some former winged teams have chosen to take advantage of the less costly non wing racing with BOSS bringing the number of regular series competitors to seventeen. Whatever your engine choice, favorite tire and compound, or budget limitations, it doesn't matter. Just be prepared to be fast and enjoy running for a respectable purse. Aalan reminded me that while there are series paying bigger dollars, none make it as affordable to compete. This series is in its fourth year and is continuing to grow with more dates and exciting things to come in the future.
Northern neighbor Ken Bayless in Ontario has put together a non winged organization across the border with the Ontario Topless Sprints. The growing OTS series venture across the border into the US on frequent occasions. Ken assures me that the racers and driver safety are of utmost importance to his series. This group will soon make the trek as far south as PA's Big Diamond and Lincoln speedways respectfully. What a unique idea. Outlaw sprint cars with an organization that is doing it with common sense and with the race teams as the paramount concern rather than extracting money at every turn. We wish both the BOSS group and the Ontario Topless Sprints success in seasons to come. Information on the BOSS series may be found at buckeyesprints.com while ontariotoplesssprints.com has their particulars.
Okay, some thoughts from us here on Lake Alice. We were sorry to hear of the passing of Bill Gardiner, the founder of IndianaOpenWheel.com. He will be missed and his family are in our prayers as they deal with their loss. On the positive side, Jimmy Jeep Knapp continues to improve from his injury back in February. Jimmy, Glenda and the yellow Jeep plan to return to pushing sprint cars this coming month. Great news for sure. Family and ministry obligations have kept us close to the lake up to this point. That is subject to change and we hope to do a limited race schedule yet this season. The Daytona Antique Auto Racing Association Nationals will be here before we know it. It is time for the distant teams to be planning their Florida visit. We hope drivers will take advantage of the online signup capabilities for the CAP program on our nationalspeedwayministries.com web site. If you sign up at this point of the season, coverage is good till this time next year. Don't strap in without it. With that, I will close with thanking everyone for their comments, God Bless and see you at the races.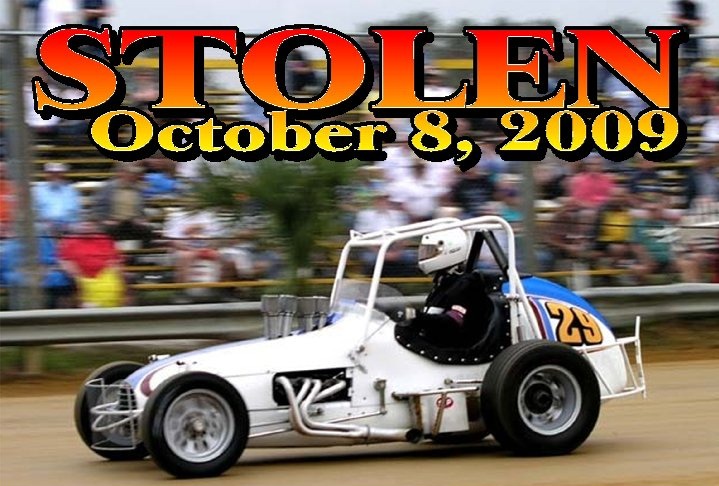 This 1968 Culbert Automotive Engineering (CAE) Sprint Car and enclosed trailer was stolen from the locked fenced in yard at Import Specialties 2100 Rosewood Dr. Columbia, SC the evening of October 8, 2009.
The race car and equipment was stored inside of a 2007 LA CARGO "FREEDOM" 7x16 foot Enclosed Trailer, Which was also stolen.
The Trailer: Serial #5TTBE16277D001946, white in color, equipped with tandem axles, a walk in door on the curb side and a ramp/door on the back, it may have some damage on the right side .
THERE IS A REWARD.
Contact Rich Hoffman at:
803-788-7018
803-799-4401
Email: importspecialtie@bellsouth.net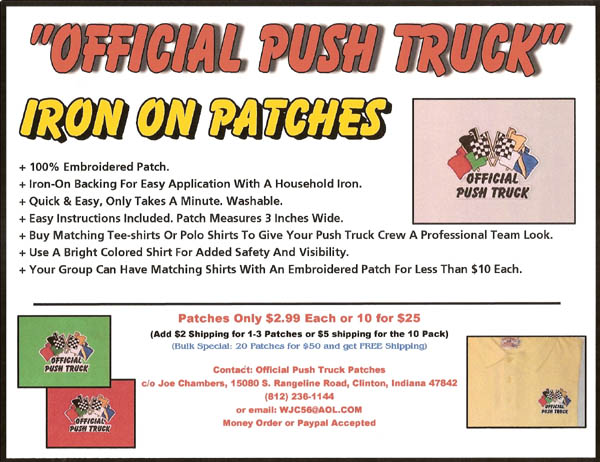 JOE CHAMBERS IS SELLING "OFFICAL PUSH TRUCK" PATCHES..THIS WOULD BE A NICE ADDITION TO YOUR SHIRT OR JACKET AT THE TRACK..JOE HAS BEEN A PUSH TRUCK DRIVER FOR YEARS AND IS WELL KNOW FOR HIS PROFESSIONAL PRESENTATION TO THE SPORT...

Copyright © 2014, JimmyJeeps Push Truck World..All Rights Reserved.