PUSH TRUCK INFO PAGES





JIMMYJEEPS PAGES



PHOTO GALLERYS AND SPECIAL SHOWS

















SPECIAL BUILT PUSH TRUCKS







PUSH TRUCKS FROM AROUND THE WORLD





























SPECIALTY PAGES




E-MAIL "JIMMYJEEP" AT jimmyjeep45@yahoo.com



WE HAVE MORE PICTURES FROM PHOTOGRAPHER GENE MARDERNESS OF FLORIDA'S FINEST SPRINT CAR DRIVERS..(Gene Marderness photo)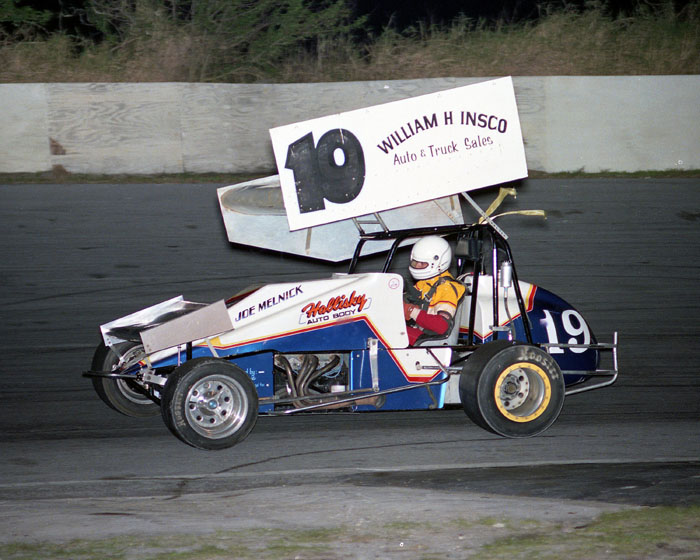 JOE MELNICK ST. PETE 1987..(Gene Marderness photo)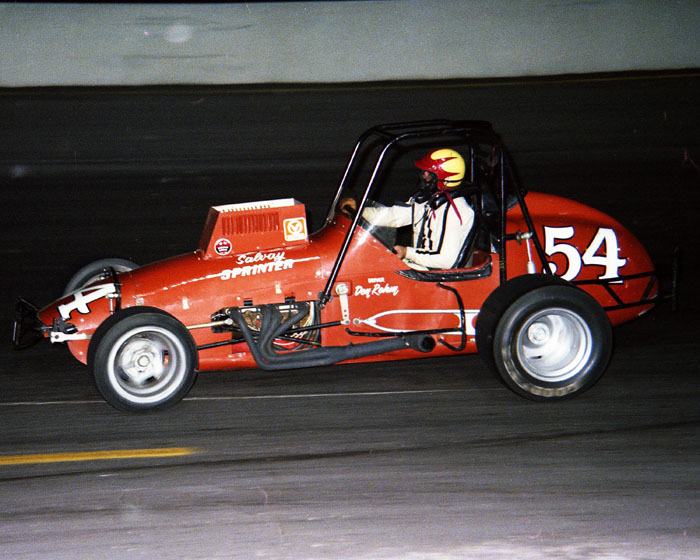 #54 DON REHM..(Gene Marderness photo)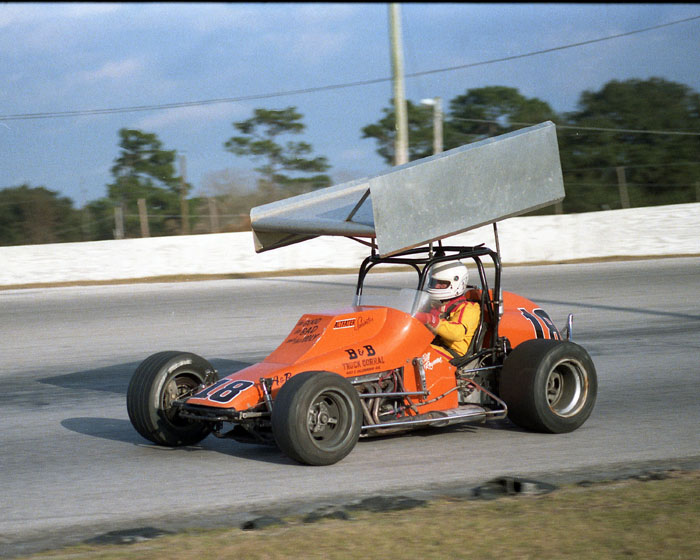 BILL ROYNON 1984..(Gene Marderness photo)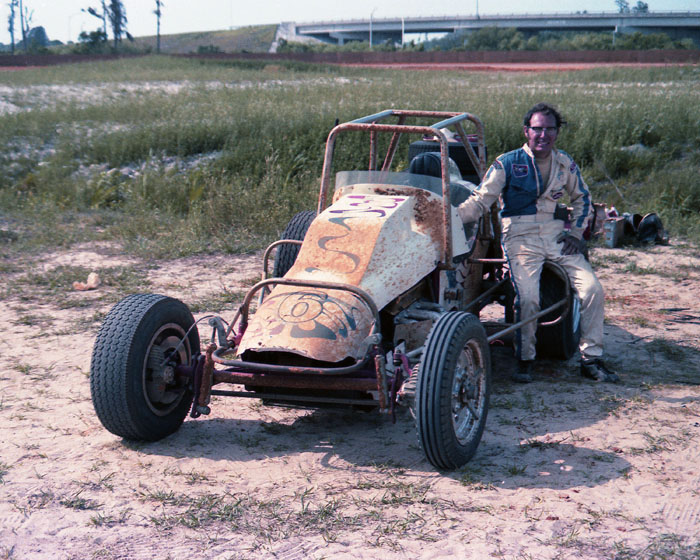 BUZZIE REUTIMANN FLORIDA STATE FAIR 1979..(Gene Marderness photo)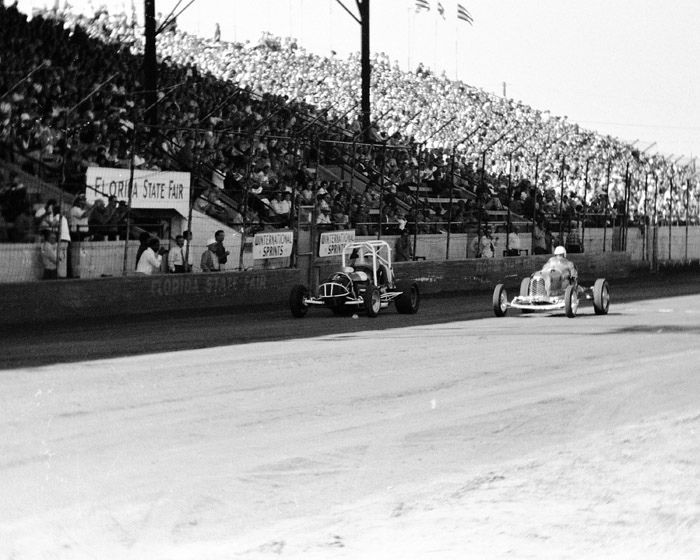 TAMPA PLANT FIELD 1975..(Gene Marderness photo)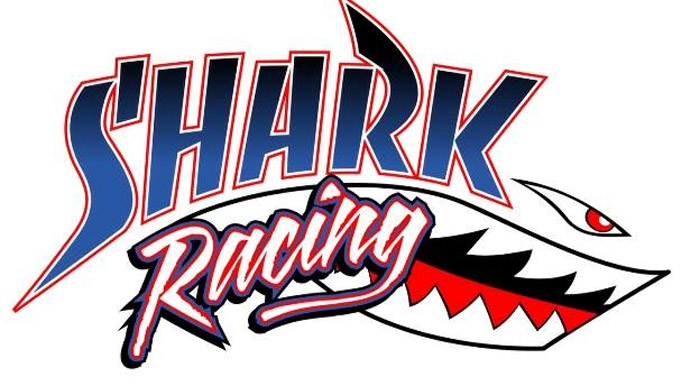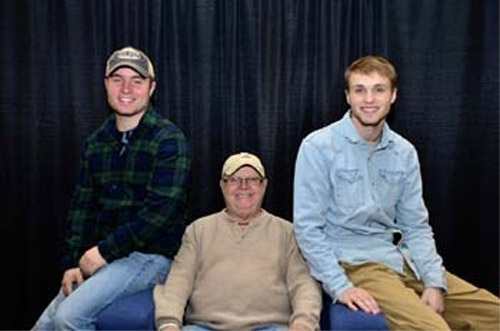 THE SHARK RACING TEAM OWNED BY SPRINT CAR HALL OF FAME DRIVER BOBBY "SCRUFFY" ALLEN..ON THE LEFT IS BOBBY'S GRANDSON LOGAN SCHUCHART DRIVER OF THE #1s AND ON THE RIGHT IS BOBBY'S SON JACOB ALLEN DRIVER OF THE #1a..(Eric Schwartzkopf photo)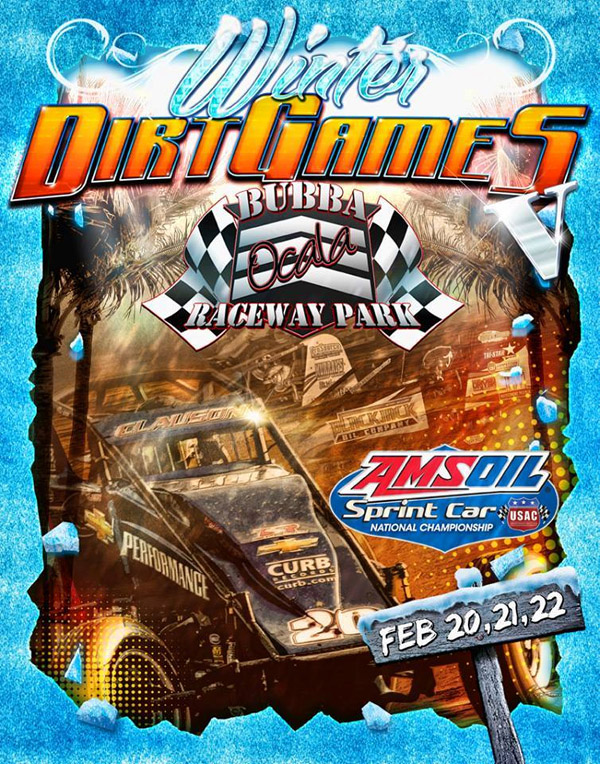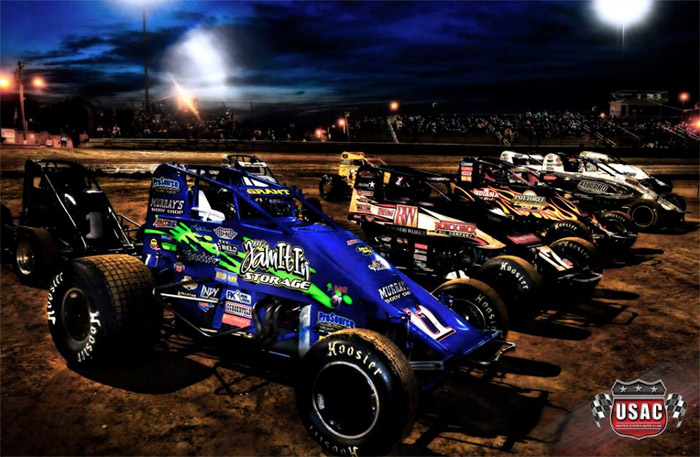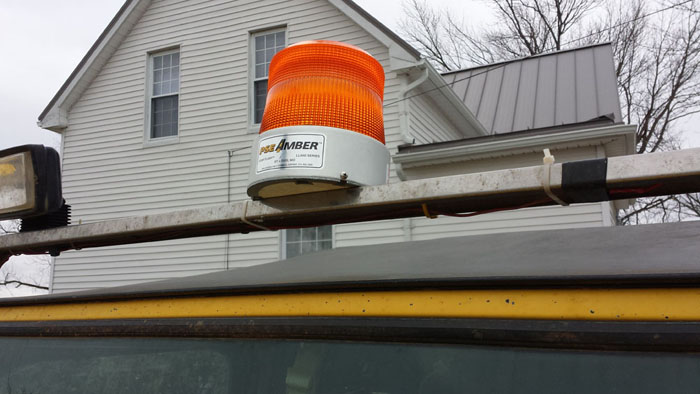 I JUST REPLACED MY TOP LIGHT WITH A NEW STROBE FROM AW DIRECT TOWING SUPPLIES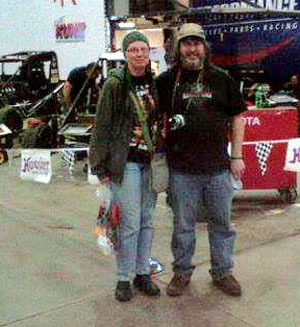 MY FRIENDS JENNY AND JOHN BARKER FROM ENGLAND MADE THEIR FIRST TRIP TO THE CHILI BOWL..THEY AND MIKE PAQUIN SENT SOME PUSH TRUCK PICTURES FROM THE 2014 SHOW..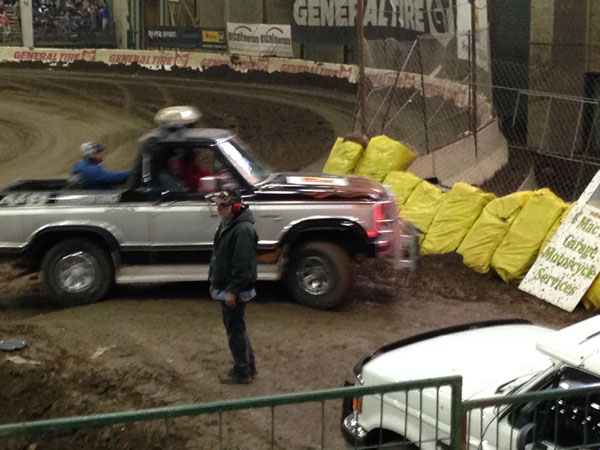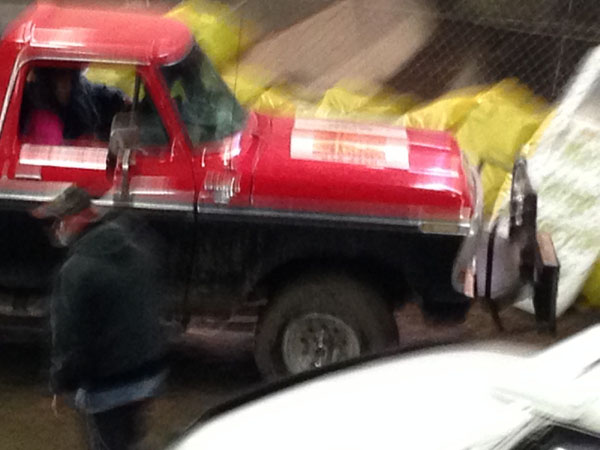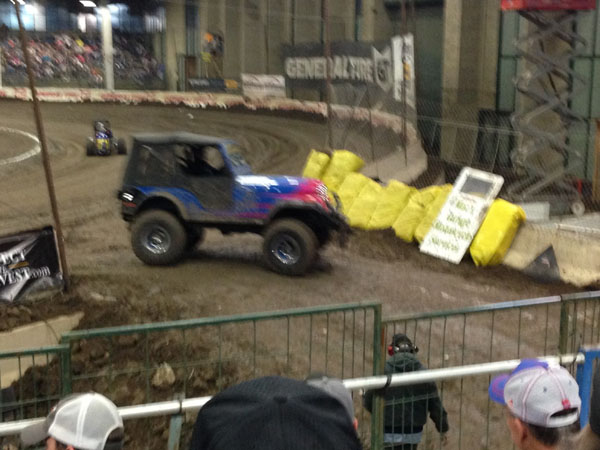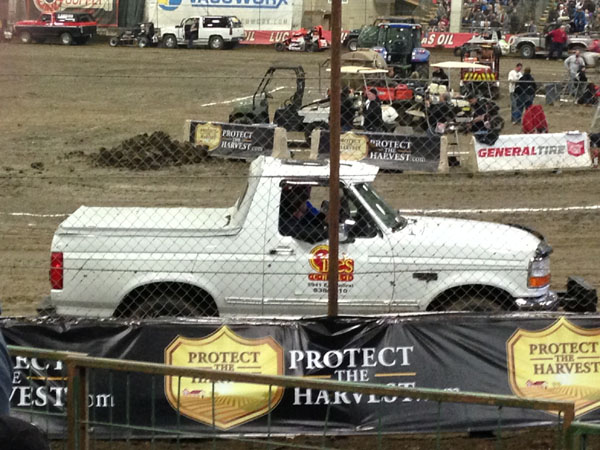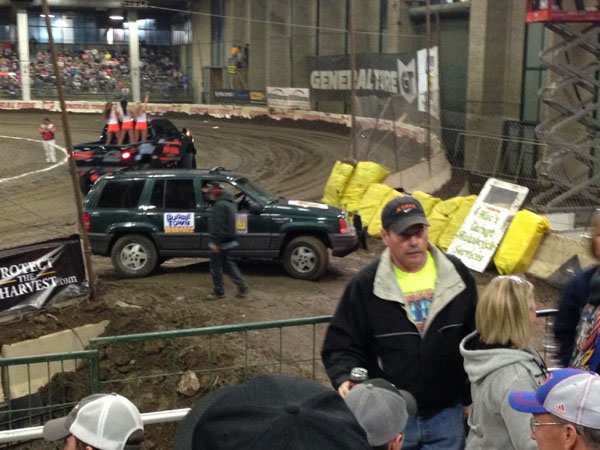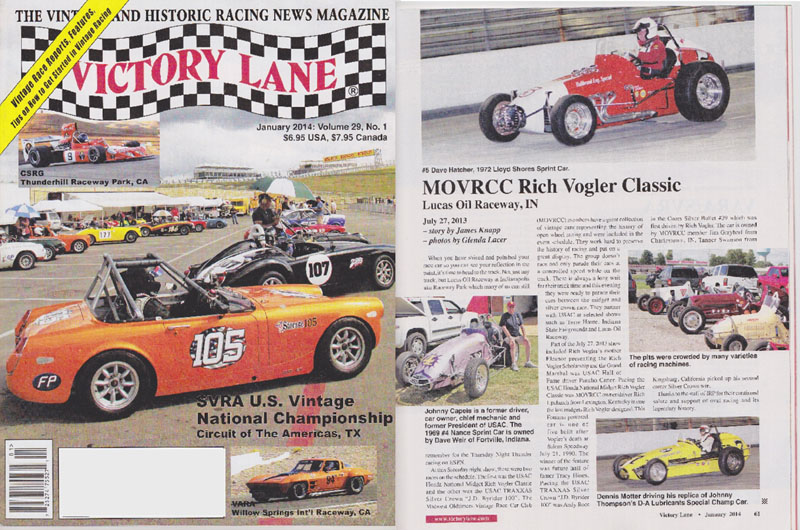 THE PICTURES THAT GLENDA TOOK AT LUCAS OIL RACEWAY PARK/INDIANAPOLIS AT THE 2013 USAC RICH VOGLER MIDGET RACE AND THE ARTICLE I WROTE MADE THE 2014 JANUARY ISSUE OF VICTORY LANE MAGAZINE..

DON'T NFL SPRINT CAR RACING by Pastor Dudley Balmer
In the name of safety for players, fans and everyone involved, the powers that be are remaking the game of football in the name of safety. Helmet to helmet contact now being illegal is leading to more numerous and more serious knee injuries as players are forced to make their hits to the unprotected lower body. Other injuries also are attributed to rules made to prevent concussions and other upper body injuries. Many of these rules are initiated by people who have never played the game or are motivated by lobbying interests. As fans prepare for the biggest game of the year, The Super Bowl, they are told that tailgating, a major part of the football tradition is now outlawed. Much of this is being done by political do gooders, fueled by political motivation. This isn't a football column you say. Well, with the intervention in all professional sports, can racing be far behind?
At a recent Daytona Antique Auto Racing Assoc. function the guest speaker was a racing insurance company executive. He went so far as to suggest "racing" be taken out of the organization name. He proposed more safety equipment on the vintage cars along with reduced speeds on the track. Adapting modern safety equipment on fifty or seventy five year old cars can pose a problem and ruin their authenticity. The ever growing insurance requirements are affecting each and every track on which sprint cars or any race cars compete. Track insurance premiums and requirements continue to escalate with each new season. As track insurance costs go up, ticket prices or pit passes go up or purses go down. As the dollar amount of legal settlements for race related injuries continue to go through the roof, more requirements will be placed on race tracks and ultimately on the racer by the insurance companies. Noise has always been a problem for race tracks. Too high a decibel count has been responsible for track closure for years. Mandating mufflers has stayed the death of some tracks, but with the ever encroaching residential community the threat continues to grow. The noise police however may not be as great a threat as the ever protective EPA. Trace amounts of oil and fuel going into the ground to say nothing of imagined air pollution invites our government, local and national, to come and save us from ourselves. The fact that motorsports employs literally millions of people across the country, will not carry any weight if we do not recognize the threat of over regulation and prepare to combat it. As we all know from experience, intervention by outsiders into any activity of which they have little or no knowledge is always deleterious to that activity. Why should racing be any different? New Jersey state police have been regulating all forms of racing for decades. Google NJ state racing regulations and see for yourself. As Ronald Reagan once said "the scariest words a person can hear is, I am from the government and I am here to help you." Over regulation, in the near future, may be the death nail of football as we know it. Can the axe carrying regulators for racing be far behind? I am not sure how to install airbags in a sprint car but the time may be approaching when I may have to figure it out. I have always been a football fan and racing has been my life for over fifty years but I fear overregulation may be the death nail for both. Big brother is coming to save us from ourselves. If you feel this will not affect your racing activities then you are very well part of the problem.
The big February month long kickoff to the 2014 season is practically upon us and Nancy and I are still in the West Virginia north land taking care of business for Nancy's mom. We hope to arrive home to our Wewahitchka, Florida digs in time to take in at least some of the events. The recent 13 below zero morning reminded us why we now reside in the land of sunshine and the retired. Though our 2014 schedule exists mostly in our imagination at this time, the good Lord always has a way of working it out. So as we look forward to a new racing season, we hope our schedule matches with yours sometime in the near future. Until then, God bless and see you at the races.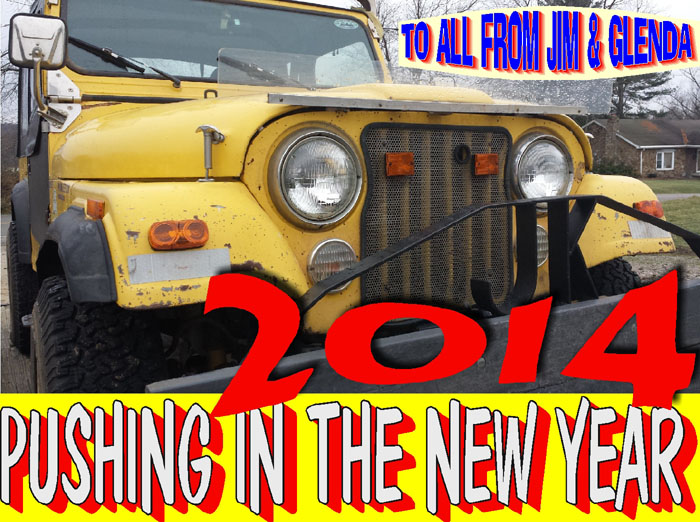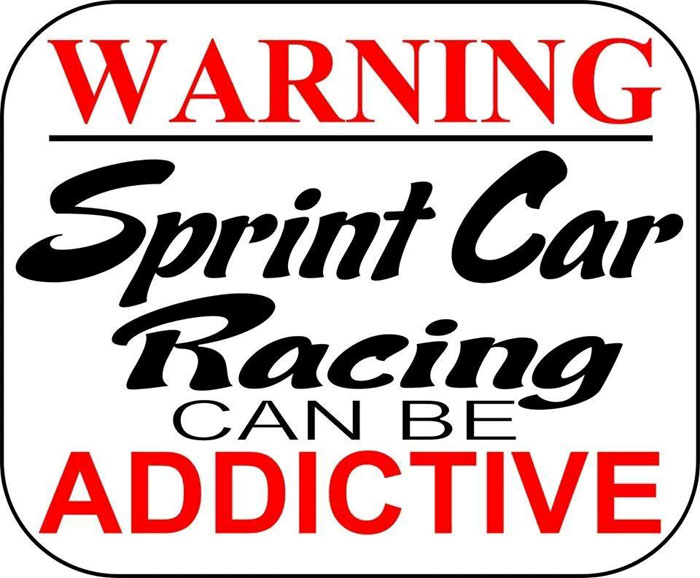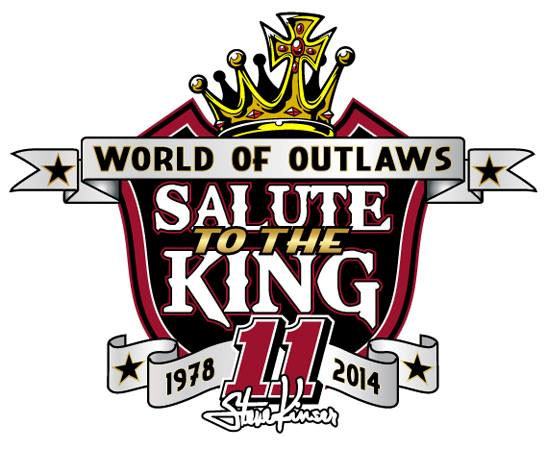 THE TIME HAS COME FOR STEVE KINSER TO SLOW DOWN FROM FULL TIME RACING AT THE END OF 2014..MAKE SURE YOU GET A CHANCE TO PUSH HIM IF YOU CAN NEXT YEAR..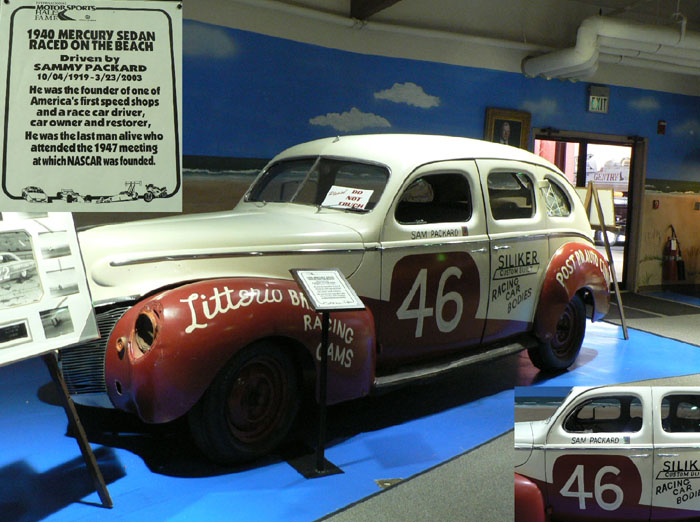 WHEN WE WERE AT THE INTERNATIONAL MOTORPORTS HALL OF FAME & MUSEUM AT TALLADEGA SUPERSPEEDWAY I WAS SURPRISED TO SEE MY OLD FRIEND SAMMY PACKARDS CAR ON DISPLAY..(Glenda Lacer photo)

MERRY CHRISTMAS EVERYONE by Pastor Dudley Balmer
Not sure if Santa would find us in Wewahitchka, Florida so Nancy and I headed north to the Ohio Valley where Santa might have a better chance of honing in on our location. Family obligations forced this unexpected trek to the northland. For the most part sprint car racing is over in the US but a couple of news items showed up along with all the one of a kind, gotta buy this now, last minute shopping deals that inundate us all.
First, anyone who is involved in sprint car racing owes Stuart Hilborn a load of thanks. 96 year old Mr. Hilborn passed away Dec 16th after changing the fueling systems on performance engines in a revolutionary manner for the ages. Mr. Hilborn a native of Canada, spent his life in southern California perfecting manual fuel injection through his Fuel Injection Engineering Inc. business which is still the standard for the performance industry. Mr. Hilborn is survived by his wife Ginny of 60 years, two children, four grandchildren and 2 great grandchildren.
Second, after the 2014 racing season draws to a close, Steve Kinser will no longer be campaigning a sprint car with the World Of Outlaws. Steve is now and always has been the poster child for tough. In and out of the car Steve is one of a kind. Central Indiana is known for two things, Indiana University basketball and the racing Kinser family. Much will be written about Steve Kinser over the next year but unless you know him personally there will be something missing. Steve will remain busy with the Kinser family business and racing when and if he chooses. We wish him all the best.
Third, Scruffy returns. Bobby Allen will be involved with fielding a two car WOO team for the 2014 season. Grandson Logan Schuchart and son Jacob Allen will be the pilots for the Allen team. Bobby did more with less than anyone I have ever known and it will be interesting to watch this family deal. What do ya bet that they will be running the bottom?
Ooops: In our previous column I stated that the Jameson Camp was for kids with physical challenges when actually their focus is on kids that other than the Jameson Camp, would never get to have the camp experience. Jameson Camp's programs are developed to offer a progression of experiences that foster: Decision-Making Skills, Environment, Leadership Skills, Peaceful Conflict Resolution, Resistance Skills, Responsibility and Self-Esteem. Sorry for misstating the Jameson Camp focus.
This past year has brought us many new friends through this column. Though a few have threatened bodily injury when we trampled their sacred cows, for the most part it has been very rewarding. Remember it is just opinion and commentary. If you have an opinion you will be allowed to keep your opinion. My wife reminded me that I will turn 70 during the 2014 season. This possible miscalculation of birthdays past will in no way influence our participation as racing pastor, occasional competitor or author of this column. The great sprint car racing family has kept this racing thing fun over the last 53 years. Thanks too for the Daytona Antique Auto Racing Association for allowing us to serve as their chaplains for another year. Also, thanks to Vintage American Race Cars for allowing me to compete with them this past August. As we get ready to settle in for a long winter night with the visions of sugar plums and memories of roaring engines dancing in our heads, let us remember the reason for the season. All the glitz and glitter is okay but it is about a baby born in a stable for you and for me that makes it Christmas. It is remembering the true meaning of Christmas that we wish you all the very best the season has to offer. So, from Nancy, myself and Baby the cat, God bless, see you at the races and "Merry Christmas and Happy New Year".

SPONSORSHIP: ONE NAME AT A TIME by Pastor Dudley Balmer
Here it is, the end of the season and before the turkey is served on Christmas day, racers are working on sponsorship for the 2014 season. It is not sugar plums, but dollars that are dancing in their heads. We have all taken our neatly prepared proposals to the chieftains of the corporate world only to have it hit the round file before we are out of the building. On most occasions it never reaches the decision maker at all. Perhaps a new approach is in order. 2013 for the Frederickson family racing team of Kokomo, Indiana was not one to be fondly remembered. Mechanical problems and just plain bad luck plagued the team from opening night to the end of the season. However, instead of hanging their heads, a new plan of attack is already under way. Bill Frederickson,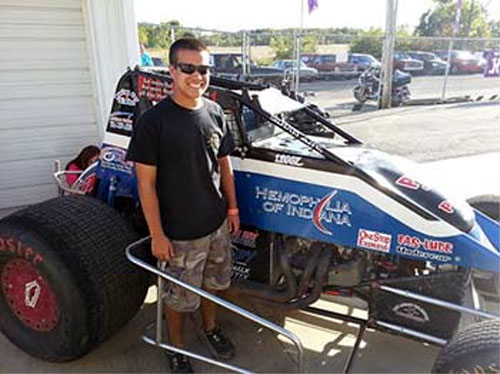 PARKER FREDERICKSON
Jamie Frederickson has been racing sprint cars in central Indiana and the surrounding area for twenty years. Not only is the Frederickson team known for its success on the track but for their community service as well. They support a worthy cause with a prominent ad for a local charity on the race car, also, Jamie and the car and crew are available at the charity's functions as needed throughout the season. The association with the #58 Frederickson sprint car has given organizations exposure they could not have hoped to achieve by other means. Video, TV, print and personal appearance time have proved invaluable for associated charities. All this is done at Frederickson's expense, sort of reverse sponsorship. Past associations include Ronald McDonald House, Hemophilia of Indiana and this year, The Jameson Camp. The Jameson Camp has been serving underprivileged children and children with physical challenges in the Indianapolis area since 1928. In addition, five percent of the money collected will go to another Frederickson charity. Giving back seems to be the accepted thing to do to make a statement today, but this family team does it to the extreme.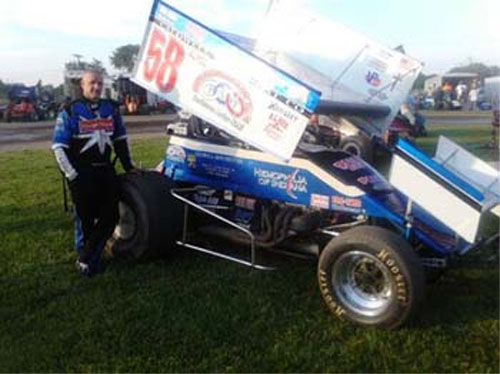 JAMIE FREDERICKSON
The Frederickson team competes against some of the best non-wing cars and drivers in the country. But there is more to the story. Perhaps it is the Christian symbols or scripture prominently displayed on the car that attracts crowds to the Frederickson trailer. It may be that there is always time to talk to an interested fan or it may be just the genuine love for what they do that attracts folks to the 58 car. Whatever it is, they love doing it, people feel it and want to be a part of it. Is this the future of sponsorship for high dollar sprint car teams? Probably not. It does however appear to be the financing avenue for the 2014 racing season of Frederickson Racing. If you would like to participate just to have your name on a race car or perhaps really want to help a unique family race another season, contact Bill Frederickson at 765-860-1478. If all comes together as planned, seventeen year old Parker Frederickson will be in a second Frederickson car. If imagination and perseverance count for success, the 2014 racing season will surely be one of racing and personal triumph. The beat goes on for Frederickson family racing against the big guns in central Indiana.
JAMIE IN ACTION
As for Nancy, Baby (the travelling cat) and myself it is off from sunny Florida to the northland to satisfy family obligations. Yep, December in the Pittsburgh tri- state area. For all those that called and sent emails saying they missed us at the DAARA Nationals, we missed you folks also. Hope to have everything together for the spring national event. Spring you say? The big spring national event is only three months away.The new web site for the Daytona Antique Auto Racing Assoc. is www.daararacing.org . Though we may be on the road our web site, nationalspeedwayministries.com is tended daily and your prayer requests are the first order of the day. So, till next time from somewhere in the frozen north, God Bless and see you at the races.

MY GOOD FRIEND PHOTOGRAPHER GENE MARDERNESS SENT ME SOME OLD PICTURES OF FLORIDA'S FINEST SPRINT CAR DRIVERS..(Gene Marderness photo)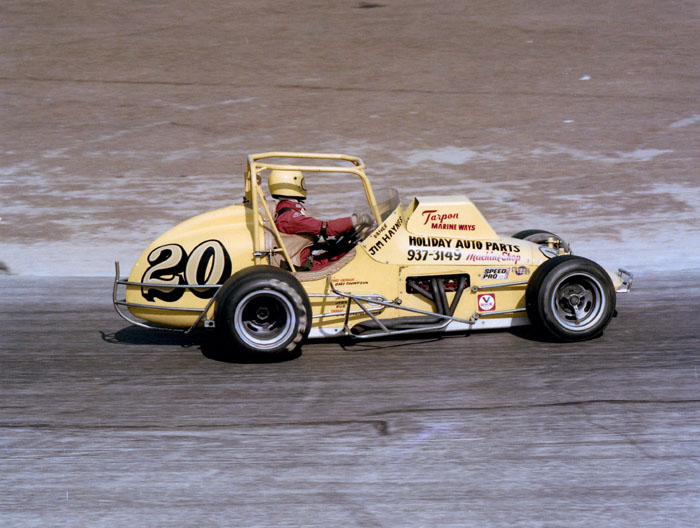 JIMMY HAYNES AT SUNSHINE SPEEDWAY 1981..(Gene Marderness photo)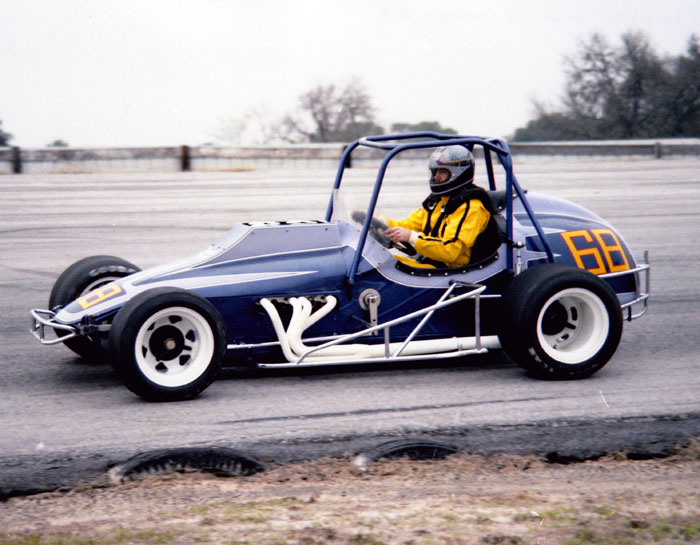 LARRY BRAZIL AT GOLDEN GATE SPEEDWAY 1978..(Gene Marderness photo)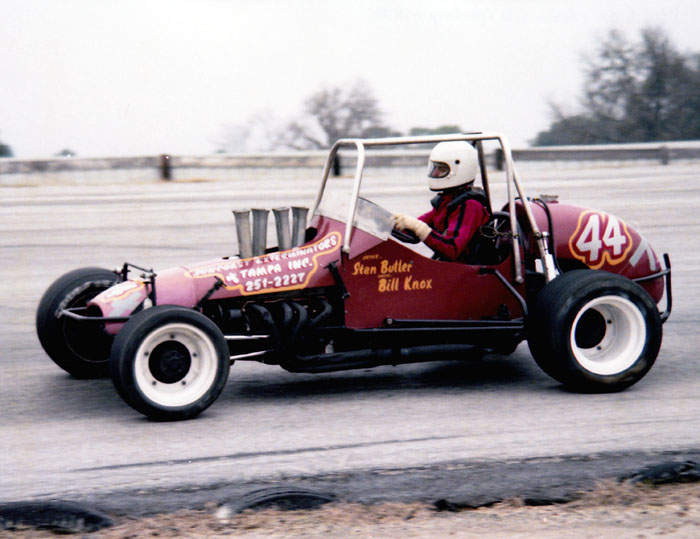 STAN BUTLER AT GOLDEN GATE SPEEDWAY 1978..(Gene Marderness photo)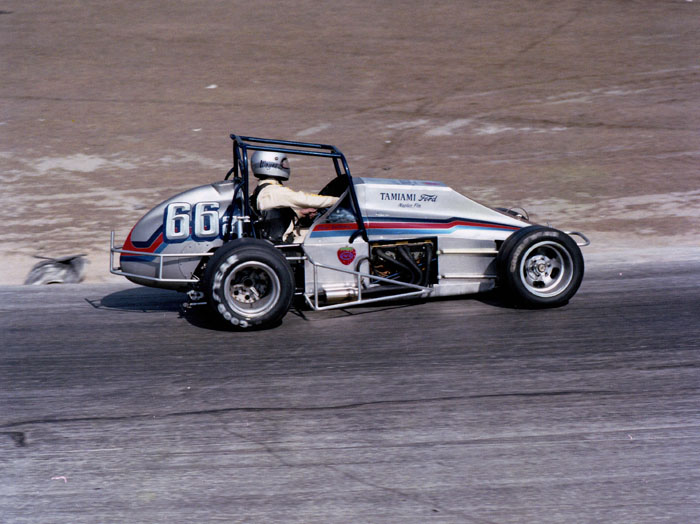 WAYNE REUTIMANN SR. AT SUNSHINE SPEEDWAY 1981..(Gene Marderness photo)
FRANK RIDDLE AT GOLDEN GATE SPEEDWAY 1978..(Gene Marderness photo)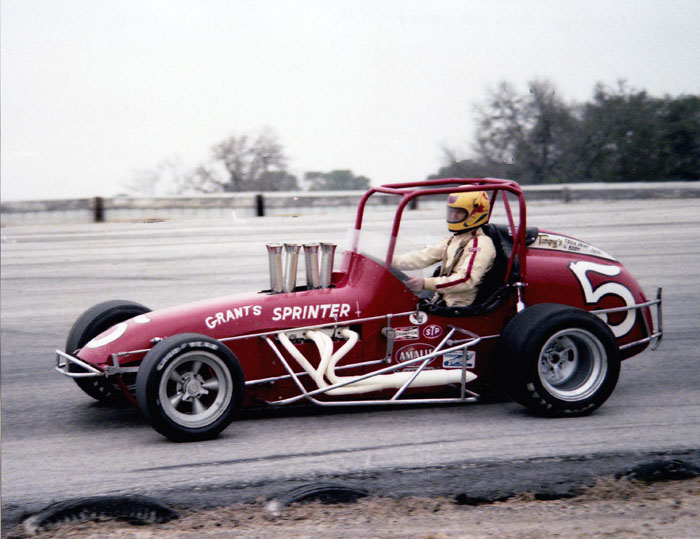 DAVE SCARBOROUGH AT GOLDEN GATE SPEEDWAY 1978..(Gene Marderness photo)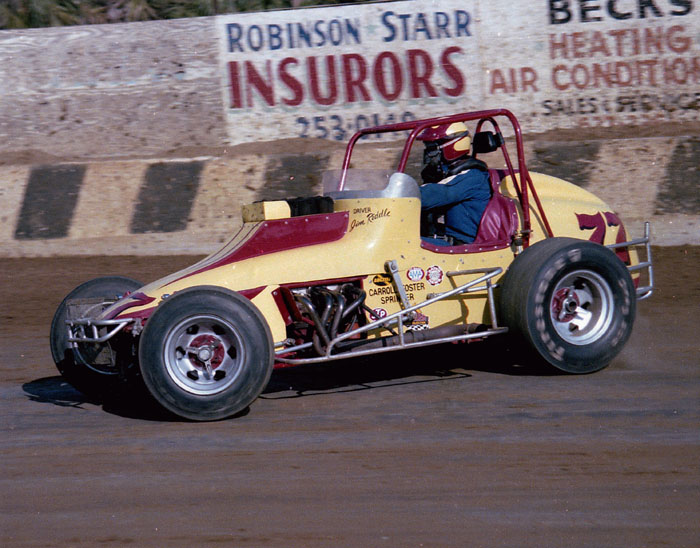 JIM RIDDLE AT EAST BAY SPEEDWAY 1977..(Gene Marderness photo)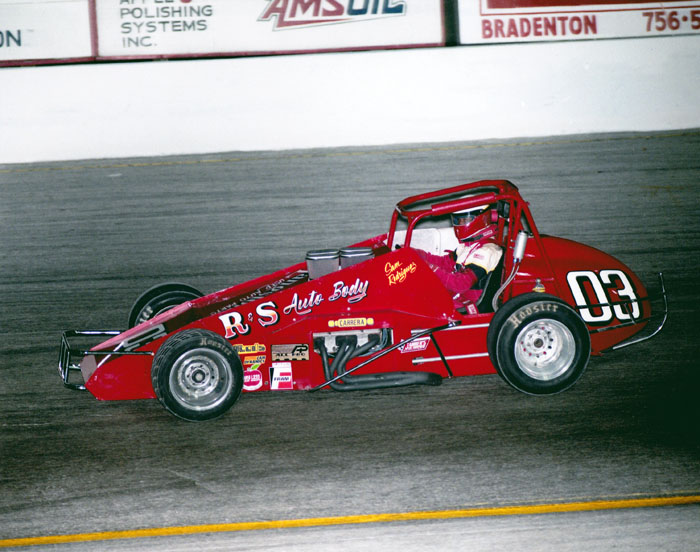 SAM RODRIQUEZ AT DESOTO SPEEDWAY 1988..(Gene Marderness photo)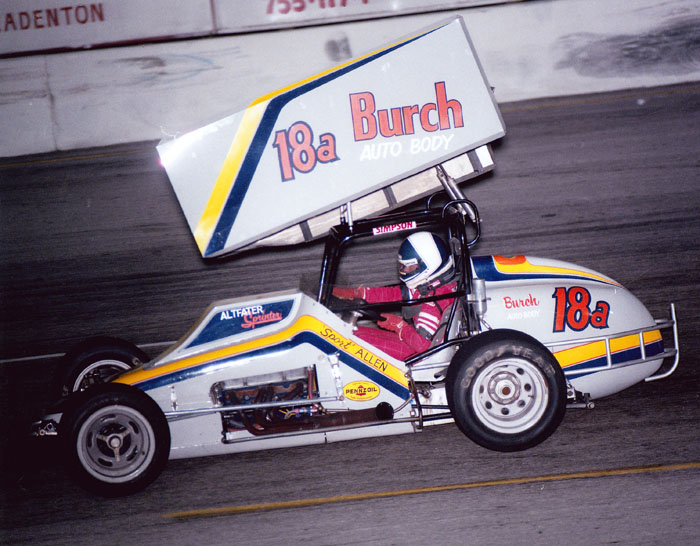 SPORT ALLEN AT DESOTO SPEEDWAY 1985..(Gene Marderness photo)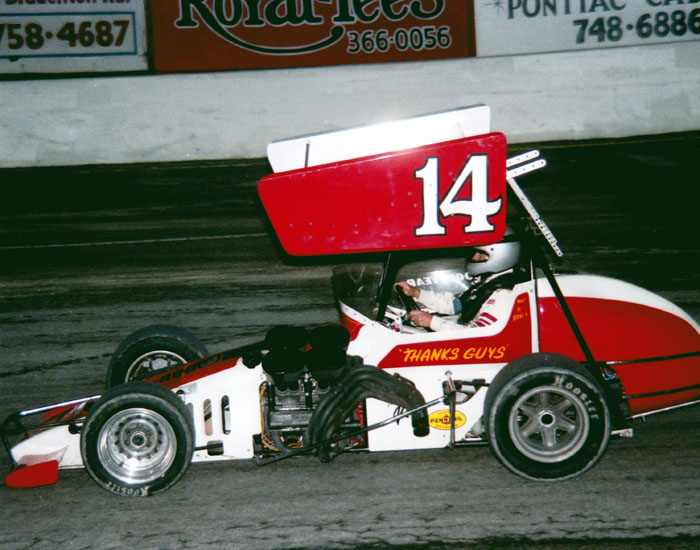 JIM CHILDERS AT DESOTO SPEEDWAY 1985..(Gene Marderness photo)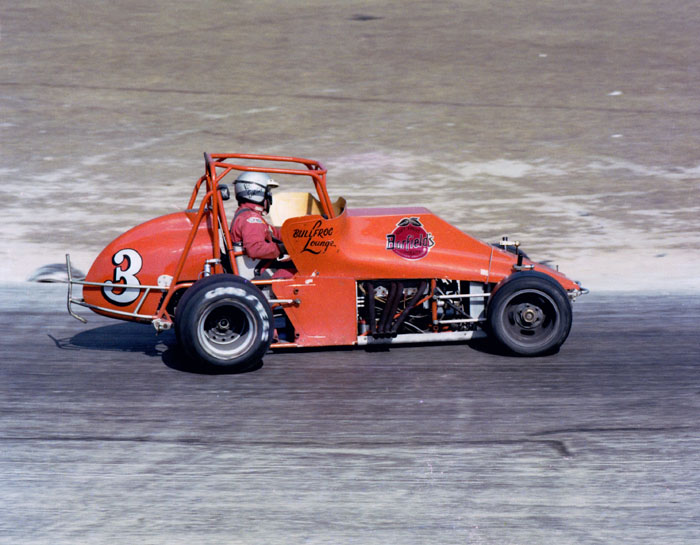 ROBERT SMITH AT SUNSHINE SPEEDWAY 1981..(Gene Marderness photo)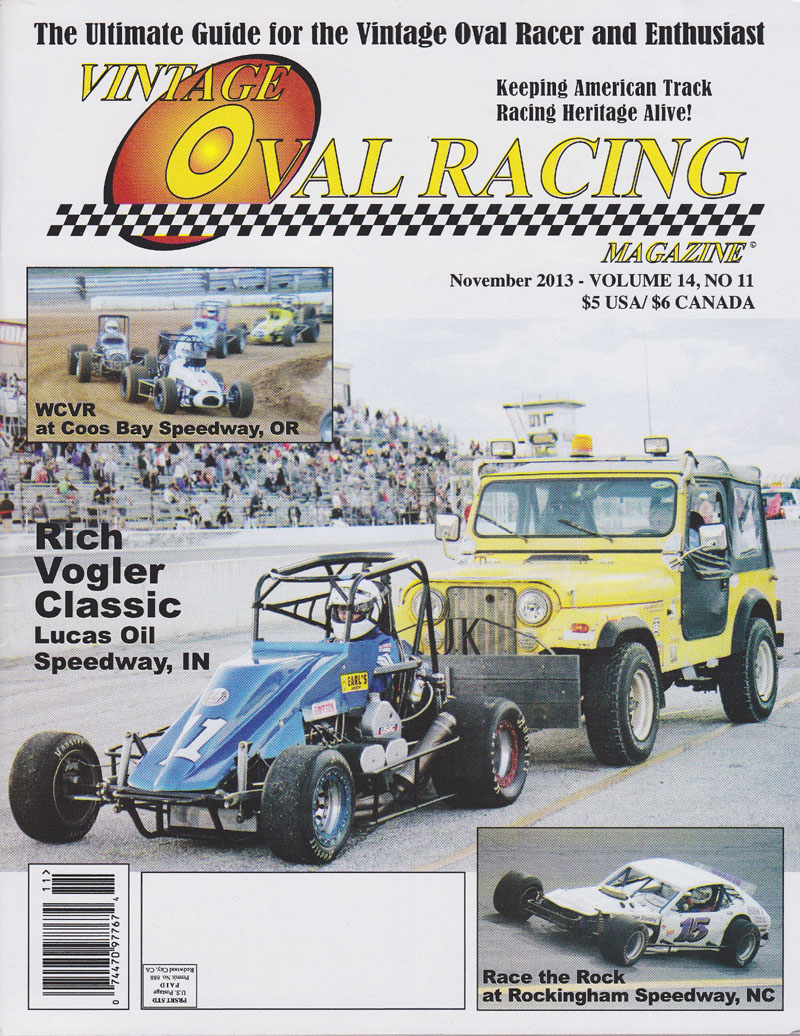 GLENDA LACER'S PHOTO TAKEN AT LUCAS OIL RACEWAY PARK/INDIANAPOLIS MADE THE NOVEMBER 2013 COVER OF VINTAGE OVAL RACING MAGAZINE..THE MIDGET IN FRONT OF JIMMYJEEP IS ONE OF FIVE THAT RICH VOGLER LAST DESIGNED AND WERE BUILT AFTER HIS DEATH AT SALEM SPEEDWAY JULY 21, 1990..(Glenda Lacer photo)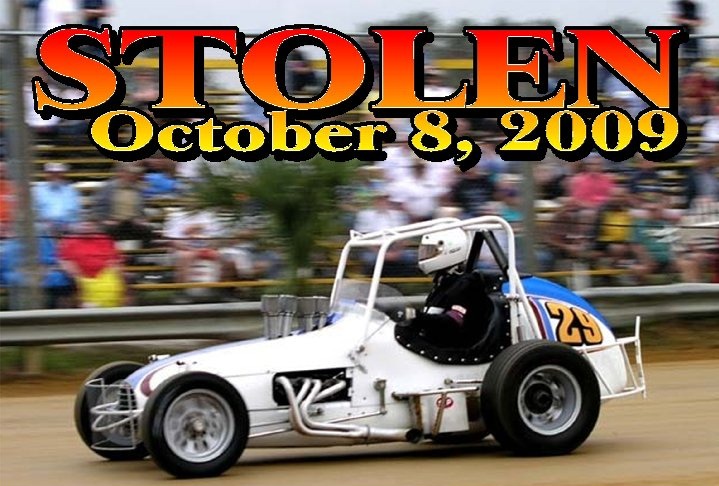 This 1968 Culbert Automotive Engineering (CAE) Sprint Car and enclosed trailer was stolen from the locked fenced in yard at Import Specialties 2100 Rosewood Dr. Columbia, SC the evening of October 8, 2009.
The race car and equipment was stored inside of a 2007 LA CARGO "FREEDOM" 7x16 foot Enclosed Trailer, Which was also stolen.
The Trailer: Serial #5TTBE16277D001946, white in color, equipped with tandem axles, a walk in door on the curb side and a ramp/door on the back, it may have some damage on the right side .
THERE IS A REWARD.
Contact Rich Hoffman at:
803-788-7018
803-799-4401
Email: importspecialtie@bellsouth.net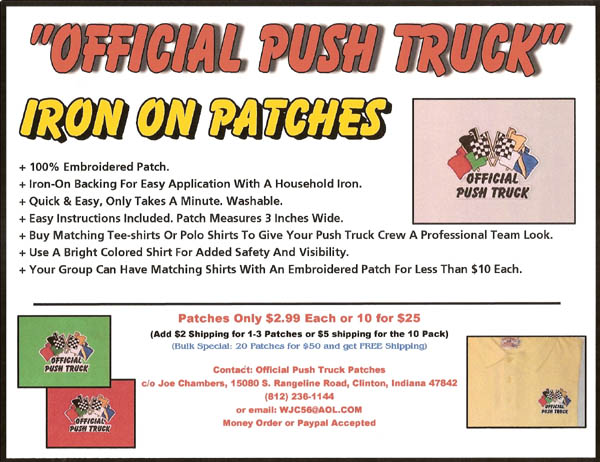 JOE CHAMBERS IS SELLING "OFFICAL PUSH TRUCK" PATCHES..THIS WOULD BE A NICE ADDITION TO YOUR SHIRT OR JACKET AT THE TRACK..JOE HAS BEEN A PUSH TRUCK DRIVER FOR YEARS AND IS WELL KNOW FOR HIS PROFESSIONAL PRESENTATION TO THE SPORT...

Copyright © 2014, JimmyJeeps Push Truck World..All Rights Reserved.